All products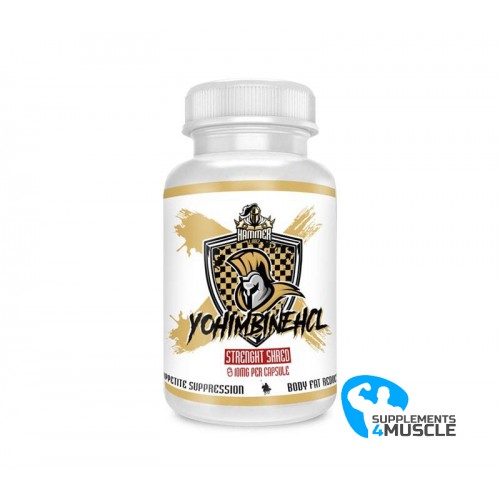 
Hammer Labz Yohimbine HCL 10mg 100 caps
Improvement of blood flow
Apetite Supression
Body Fat Reduction
Increased Libido
DESCRIPTION
COMPOSITION
DIRECTIONS OF USE
REVIEWS
DESCRIPTION
Yohimbine HCL from Hammer Lab is a high-quality supplement designed to aid in suppressing appetite, facilitating the breakdown of excess fat, and enhancing libido. Each capsule contains 5 mg of pure Yohimbine Hydrochloride. Both men and women can use this supplement to achieve a rapid reduction in stubborn fat, typically found around the waist, buttocks, and thighs.
Research has demonstrated that Yohimbine HCL is effective in enhancing athletic performance. It has been shown to increase energy expenditure, thus boosting the body's capacity for exercise. Consuming Yohimbine before physical activity or on an empty stomach aids in the burning of body fat. Regular use of Yohimbine promotes the process of lipolysis, especially in areas of the body that are notoriously hard to lose fat from - such as the mid-section and lower back for men, and the legs and buttocks for women.
Yohimbine is most effective when the body fat percentage is already under 20%. It can be used to eliminate stubborn fat and better define muscles. It is recommended not to take Yohimbine alongside high-carbohydrate meals. Start with a single capsule and gradually increase the dosage as necessary.
COMPOSITION
Serving size: 1 capsule
Servings per container: 100
| | |
| --- | --- |
| Amount Per Serving | %DV |
| Yohimbine HCL | 10 mg |
DIRECTIONS OF USE
Dosage:
Take 1 capsule 1-3 times a day. It is recommended to take Yohimbine on an empty stomach before exercise for the best results. As with all supplements, it's advisable to consult with a healthcare professional before starting a new supplement regimen, especially if you have any pre-existing health conditions or are taking other medications.
REVIEWS
There is no review
Atsiliepimas Atsiliepimas