SARMS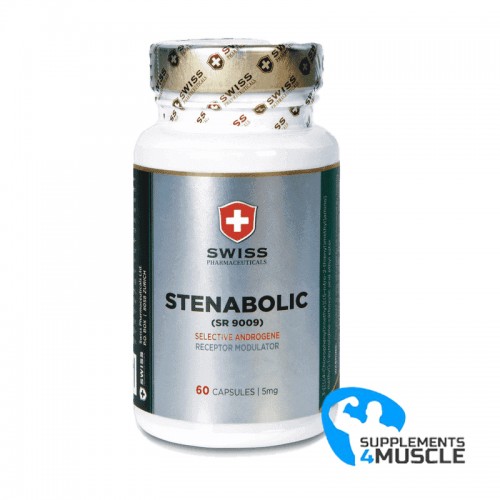 
Swiss Pharmaceuticals STENABOLIC (SR9009) 60 caps
Highly effective SARM (selective androgen receptor modulator) for more endurance and muscle mass and massive fat loss!
DESCRIPTION
COMPOSITION
DIRECTIONS OF USE
REVIEWS
DESCRIPTION
Swiss Pharmaceuticals STENABOLIC (SR9009) 60caps
Swiss Pharmaceuticals' Stenabolic (SR 9009) is an exemplary selective androgen receptor modulator, and carries effects that rival those of androgenic and anabolic steroids without the potential for harsh side effects.
Stenabolic SR 9009 from Swiss Pharmaceuticals is highly beneficial due to its ability to improve the metabolism, increase stamina, promote muscle growth, and support fat burning, thus allowing for the building of dry muscle mass. It is of particular importance to strength and endurance athletes, as it helps to expedite regeneration and muscle growth without any harmful side effects. In addition, the energy intake derived from carbohydrates and fat is burned right away, as well as any stored fat reserves.
The use of Stenabolic SR 9009 appears to be entirely safe; there have been no adverse effects reported up to this point. It also does not modify any hormonal levels related to estrogen or testosterone, as it is not a hormone-based preparation. In addition, like other Selective Androgen Receptor Modulators, SR 9009 does not cause any liver issues. Despite this, it is still recommended to take Cycle Support as precaution.
SARMs users can consider Stenabolic from Swiss Pharmaceuticals to be an invaluable tool. Try it for yourself and get it now from Supplements4muscle!
COMPOSITION
Serving Size: 1 Capsule
Servings Per Container: 60
| | |
| --- | --- |
| Amount Per Serving | |
| Stenabolic (SR9009) - 3-[[[(4-Chlorophenyl)methyl][(5-nitro-2-thienyl)methyl]amino]methyl]-1-pyrrolidine-carboxylic acid ethyl ester: | 5mg |
Other ingredients: gelatine, magnesium stereate
DIRECTIONS OF USE
Dosage: The dosage of Stenabolic SR 9009 is for men: 5-15 mg per day, for women: 5-10 mg per day for a cycle of 10 to 12 weeks. This corresponds to 1 to 3 capsules.
Always start with the lowest dose to test tolerance.
Supplements are no substitute for a healthy diet. Consumption and use is at your own risk. Take this product only if you are healthy and over 18 years old. Consult a doctor before use and do not exceed the recommended daily intake. Please do not combine this product with alcohol, drugs or medicines. This product must not be allowed to get into the hands of children. Store in a cool and dry place after opening.
REVIEWS
There is no review
Atsiliepimas Atsiliepimas