TESTOSTERONE BOOSTERS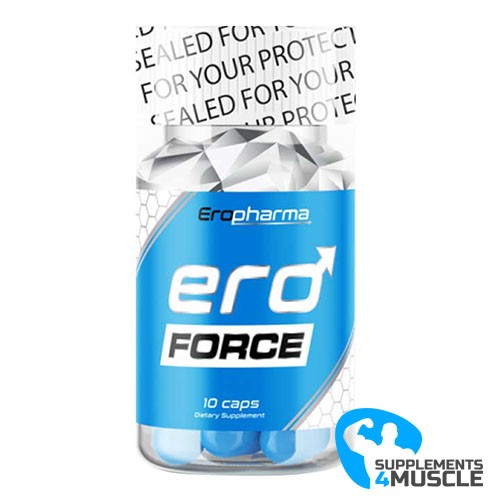 
DESCRIPTION
COMPOSITION
DIRECTIONS OF USE
REVIEWS
DESCRIPTION
EroPharma Ero Force 10 caps
Looking for a potent testosterone booster that can give you extra stamina when you need it the most? Want to get that additional push you need to perform at your best during your most difficult workouts? If your responses are a resounding yes, EroPharma Ero Force are just what you need to boost male performance. Get the exercise results you haven't been able to get with your normal gym routines in a long time.


Eropharma Ero Force may assist you in obtaining strong and powerful erections that last a long time and allow you to thrill your lover like never before. Ero Force 10 tabs have the ability to greatly enhance bioavailable free and total testosterone in the body. Ero Force tablets and Eroforce supplements are proven to boost sperm volume and mobility.
EroPharma Ero Force is a strong sex product that is loaded with natural, safe, and effective chemicals such as Epimedium Extract (Horny Goat Weed), Grape Seed Extract 95 percent, Tadalafil, Sildenafil Citrate, Mucuna Pruriens (99 percent L-dopa), and Naringenin. Get in the greatest shape of your life right now and enjoy head-turning confidence.
Why Buy EroPharma Ero Force 10 caps?
Increases total and bioavailable free Testosterone
Promotes explosive libido
Improves the quality and duration of intimate sessions
Increases semen volume
Improves erection strength and performance
Improves sperm mobility
Improves self-esteem, determination, and confidence
Helps with faster recovery
Accelerates the process of all of the body functions
Hit the gym harder and longer with Eropharma Ero Force which allows you to conquer all your fitness and bodybuilding goals without a miss. Enriched with powerful ingredients such as Tadalafil and Sildenafil Citrate to name a few, Eropharma Ero Force improves your performance to make you the rockstar in bed and leave your partner asking for more! Choose Eropharma Ero Force to get intense pumps like never before at the gym and stay in the best shape of your life like never before. Reclaim your charm and youth of the past without spending a fortune. Order Eropharma Ero Force now! Get the edge you have always been looking for at the gym with a proven formula that is designed to promote muscle mass, size, and definition. Buy EroPharma Ero Force now!
COMPOSITION
Serving Size: 1 capsule
Servings Per Container: 10
| | |
| --- | --- |
| Amount Per Serving | |
| Epimedium Extract (Horny Goat Weed) (Standardized to 70% Icariin) | 500 mg |
| Mucuna Pruriens (99% L-dopa) | 100 mg |
| Sildenafil Citrate | 100 mg |
| Grape Seed Extract 95% | 30 mg |
| Tadalafil | 25 mg |
| Naringenin | 20 mg |
DIRECTIONS OF USE
Take 1 capsule a day for maximum of 3 days with at least 1 day off before resuming.