HEALTH AND VITALITY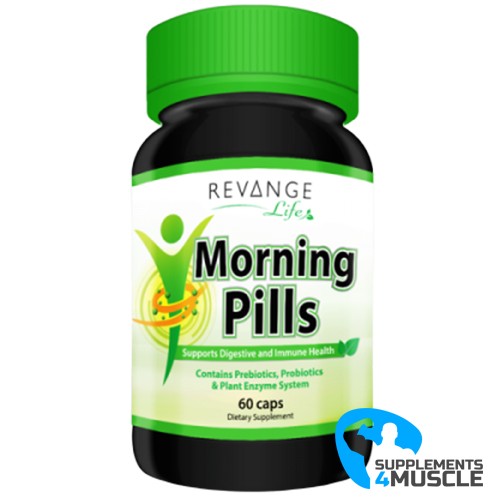 
Revange Nutrition Morning Pills 60 caps
Supports Digestion Process
Helps Eliminate Bloating & Discomfort
Promotes Amino Acid Uptake
Helps Promote Healthy Gut Immunity
DESCRIPTION
COMPOSITION
DIRECTIONS OF USE
REVIEWS
DESCRIPTION
Revange Nutrition Morning Pills 60 caps
Revange Nutrition Morning Pills 60 caps
This supplement contains a blend of beneficial probiotics and plant-derived digestive enzymes to support digestive functions. High-quality, patented enzymes guarantee optimal absorption of nutrients and successful digestion. Probiotics support the process and help the body absorb important nutrients. Natural fiber boosts the growth of beneficial bacteria while improving regularity. It is especially recommended for athletes that wish to maximize their performance and overall health and for those individuals with digestive difficulties.
Lactobacillus Acidophillus is an essential probiotic, a part of gut flora, which takes part in converting lactose into lactic acid, producing niacin, vitamin B6, and folic acid. Located in the digestive system, it can alleviate the signs of gastro-intestinal problems, augment the absorption of nutrients, cure eating disorders, and reinforce the immune system. Moreover, it controls lipids metabolic rate.
Bifidobacterium Longum causes a decrease in cortisol levels - a hormone which is frequently present at a larger amount in individuals who suffer from depression and is released as a response to stress. These bacteria also restricts inflammation in the body.
Lactobacillus Casei are advantageous microorganisms which safeguard our bodies from sickness and restrain the development of unsafe germs. Found in the intestines and mouth, they generate lactic acid which diminishes the pH level in our digestive tract. Additionally, they reinforce digestion and block bowel redness.
Bifidobacterium Breve is a strain of bacteria capable of breaking down plenty of foodstuffs. These particular bacteria are effective inhibitors of unsafe microorganisms. Moreover, they contribute to the digestive process by generating lactic acid and fermenting sugar. Additionally, they can be help in treating cases of ulcerative colitis.
Lactobacillus Brevis, a type of lactic acid bacteria, is capable of making the intestinal microbiota return to equilibrium and reinforcing the body's immunity. Furthermore, this bacterium helps with combating inflammation and combating urinary tract infections.
Inulin is a naturally occurring fiber and prebiotic that can be derived from plant storage tissues, with its highest concentration found in chicory root. It has a sweet flavor but does not have a significant effect on blood glucose levels as it has a very low glycemic index. Thanks to its composition, this substance is not broken down in the digestive tract and enters the large intestine in its unaltered form. It serves as a decent home for bifidobacteria and helps keep the normal flow of bacterial flora in the GI tract.
Fungal Amylase is a collective of enzymes found in plant tissue that makes it possible for starch to break down. The process of α-1,4-glycosidic linkages in the starch being split up results in trioses and disaccharides being formed. Amylase helps to digest starchy products such as wheat and beans.
Fungal Protease enzymes are obtained from plants and help break down proteins into individual amino acids. The amino acids that form as a result of the protein breakdown are used in a variety of vital biochemical reactions, such as the formation of tissues and the manufacture of neurotransmitters, hormones and other enzymes.
Cellulase is an enzyme complex that can break down cellulose molecules. This process leads to the partial hydrolysis of plant cell walls, which makes the contents of fruits and vegetables more digestible and nutritious. Cellulase gives us access to the nutrients that are otherwise hidden away in the fiber of plants.
An enzyme called inveratase is responsible for the breaking down of fructofuranoside-sucrose into glucose and fructose.
Lactase is a type of enzyme that is responsible for breaking down lactose, the principal sugar found in dairy. This enzyme is normally generated by the cells found in the small intestine but its production decreases with age, more so as milk ceases to be a mainstay of the diet post infancy. If lactase synthesis is not present, the lactose will end up in the colon and be fermented by bacteria, resulting in anal discomfort and even diarrhea caused by the accumulation of liquid.
Lipase is a collection of enzymes which aid in the breaking down of fatty acid esters into monoacylglycerol and individual fatty acids. These get absorbed in the intestines and are used in metabolic processes within the body. Additionally, this enzyme can be used to help treat fat diarrhea.
COMPOSITION
Serving Size: 2 Capsules
Servings Per Container: 30
| | |
| --- | --- |
| Amount Per Serving | |
| Prebiotic & Probiotic AminoSorp System: | 10 bn cfu |
| Lactobacillus Acidophilus | 4 bn cfu |
| Bifidobacterium Longum | 2 bn cfu |
| Lactobacillus Casei | 2 bn cfu |
| Bifidobacterium Breve | 1 bn cfu |
| Lactobacillus Brevis | 1 bn cfu |
| Inulin | 375 mg |
| Comprehensive Multi Prong Plant Enzyme System: | 1600 mg |
| Fungal Amylase | 15,000 SKB |
| Glucoamylase | 110 AG |
| Alkaline Protease | 7,500 PC |
| Acid Stable Protease | 100 SAPU |
| Fungal Protease | 50,000 HUT |
| Cellulase | 150 CU |
| Maltase | 100 DP |
| Hemicellulase | 150 HCU |
| Invertase | 75 Sumner |
| Lactase | 1,000 ALU |
| Lipase | 1,000 FIP |
DIRECTIONS OF USE
Recommended Use: As a dietary supplement take 1 serving (2 capsules) on empty stomach after waking up.
REVIEWS
There is no review
Atsiliepimas Atsiliepimas