PROHORMONES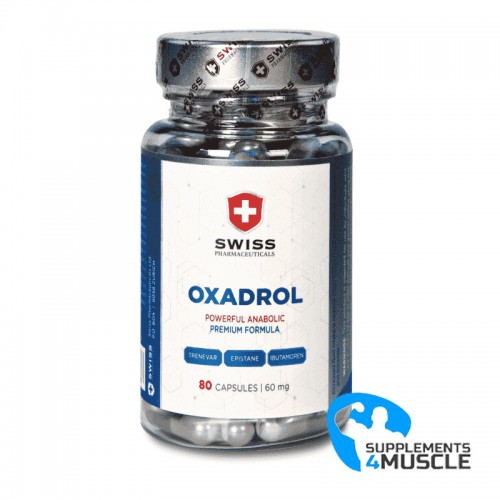 
Swiss Pharmaceuticals OXADROL 80 caps
Powerful prohormone SARM stack (incl. Trenavar, Epistans and Ibutamors) for slim, hard muscle mass in a short time
DESCRIPTION
COMPOSITION
DIRECTIONS OF USE
REVIEWS
DESCRIPTION
Swiss Pharmaceuticals OXADROL 80caps
Swiss Pharmaceuticals OXADROL is a mixture of strong and top notch prohormones and SARMs. These include Trenavar (20 mg), Epistans (20 mg) and Ibutamores MK-677 (20 mg). As a result of this unique formula, you can expect to have visible results quickly and acquire high quality, lean and hard muscle mass.
If you consume a healthy diet, adhere to an advantageous workout plan, and take OXADROL, you can boost your growth hormone (HGH) within your body to a 34% height. This enhanced HGH complements regeneration, fast-tracks eradication of excess fat, and promotes the formation of dense muscle tissue. Furthermore, the prohormone and SARM supplement expedite protein synthesis, thus enabling needed nutrients to reach your muscles nine times faster. In the long run, these implications render fuller and long-lasting increased muscles.
The benefits of using Swiss Pharmaceuticals OXADROL:
Promotes educational opportunities up to age 34, increases lean muscle mass, burns away fat quicker, generates high muscle tone and creates a strong pump effect, optimizes protein synthesis, boosts IGF-1, bolsters the immune system, promotes a restful sleep, enables intense workouts, and helps with quicker recovery.
This product is suitable for everyone who needs a powerful and creative boost:
Desiring to see an advancement in athletic ability, augment muscle size and power, recover from a physical injury, counteract muscle and bone wastage, and put off the effects of aging are all possibilities.
COMPOSITION
Serving Size: 1 Capsule
Servings Per Container: 80
| | |
| --- | --- |
| Amount Per Serving | |
| Trenavar (Estra-4,9,11-triene-3,17-dione): | 20mg |
| Epistane (2,3a-Epithio-17a-methyletioallo cholan-17b-ol): | 20mg |
| Ibutamoren (r)-1-(2-methylallyl o-benzyl-d-seryl)-1-(methylsulfonyl)-1 2-dihydrospiro[in-dole3 4-piperidine]: | 20mg |
Other ingredients: gelatine, magnesium stereate
DIRECTIONS OF USE
Dosage: 1 capsule daily with sufficient liquid. Higher dosage for advanced users should be discussed with a doctor or specialist.
Supplements are no substitute for a healthy diet. Consumption and use is at your own risk. Take this product only if you are healthy and over 18 years old. Consult a doctor before use and do not exceed the recommended daily intake. Please do not combine this product with alcohol, drugs or medicines. This product must not be allowed to get into the hands of children. Store in a cool and dry place after opening.
REVIEWS
There is no review
Atsiliepimas Atsiliepimas