PROHORMONES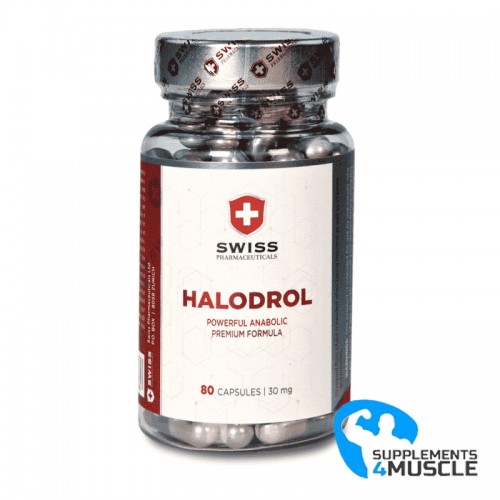 
Swiss Pharmaceuticals HALODROL 80caps
With the help of this prohormone you will quickly see results: a blatant muscle pump, enormous muscle growth and increased fat burning.
DESCRIPTION
COMPOSITION
DIRECTIONS OF USE
REVIEWS
DESCRIPTION
Swiss Pharmaceuticals HALODROL 80caps
The chemical name of the prohormone Halodrol is 4-chloro-17amethyl-androst-1,4-dien-3b, 17b-diol. Swiss Pharmaceuticals HALODROL works by entering the bloodstream and adhering to the walls of the muscle cells. This causes a reaction with the cell nucleus, which boosts protein synthesis and at the same time leads to an increase in total protein production. The prohormone thus leads to changes in the body, which are particularly beneficial for bodybuilders and strength athletes.
Halodrol supports the growth of muscle tissue, thus hard, fat-free muscles can be built up faster and training successes become visible in a short time - even on the abdominal muscles! By taking this prohormone, you can significantly improve your vascularity and increase your muscle growth without unnecessary water retention.
The prohormone Halodrol has an impressive anabolic to androgenic ratio of 74:28, allowing you to experience a significant increase in hypertrophy and strength while keeping fat levels low. This impressive anabolic to androgenic ratio also means that Halodrol has very few estrogenic or suppressive side effects. It is so strongly geared towards anabolic purposes - hypertrophy and strength gains - that its adverse effects on male sexual characteristics are virtually non-existent.
The advantages of Swiss Pharmaceuticals HALODROL:
Hypertrophy: size and strength of the muscles are greatly increased
Great vascularity and enormous muscle pump
Increased testosterone levels
Promotes fat reduction and prevents catabolism at the same time
Shortens the regeneration time
COMPOSITION
Serving Size: 1 Capsule
Servings Per Container: 80
| | |
| --- | --- |
| Amount Per Serving | |
| HALODROL (4-chloro-17a-methyl-androst-1,4-dien-3-17-Diol) | 30mg |
Other ingredients: gelatine, magnesium stereate
DIRECTIONS OF USE
Dosage: 1 capsule daily with sufficient liquid. Higher dosage for advanced users should be discussed with a doctor or specialist.
Supplements are no substitute for a healthy diet. Consumption and use is at your own risk. Take this product only if you are healthy and over 18 years old. Consult a doctor before use and do not exceed the recommended daily intake. Please do not combine this product with alcohol, drugs or medicines. This product must not be allowed to get into the hands of children. Store in a cool and dry place after opening.
REVIEWS
There is no review
Atsiliepimas Atsiliepimas