PROHORMONES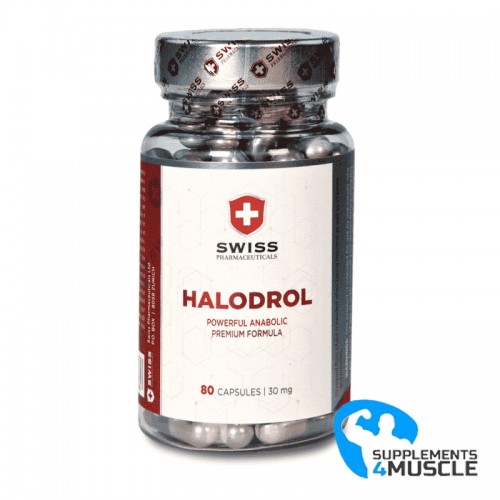 
Swiss Pharmaceuticals HALODROL 80 caps
With the help of this prohormone you will quickly see results: a blatant muscle pump, enormous muscle growth and increased fat burning.
DESCRIPTION
COMPOSITION
DIRECTIONS OF USE
REVIEWS
DESCRIPTION
Swiss Pharmaceuticals HALODROL 80caps
Halodrol, scientifically known as 4-chloro-17a-methyl-androst-1,4-dien-3b, 17b-diol, has the capability to get through to the circulatory system and attach itself to the walls of muscle cells. Once attached to the nucleus of the cell, it raises the levels of proteins in the body as well as the process of synthesizing proteins. This anabolic hormone has fruitful effects for those in the bodybuilding and strength athlete community.
Halodrol can help you get more ripped quicker, and witness the results you want quickly, including on your abs! With the use of this prohormone, you can experience enhanced muscle growth and observe more prominent veins without excess bloating of water.
Halodrol has a strong 74 to 28 anabolic to androgenic ratio, which increases the size and durability of your muscles while preventing fat buildup. Moreover, its minor hormone-related and repressing activities make it a very secure supplement. It puts primary emphasis on creating muscular progress as well as muscle power, with virtually no detrimental repercussions on male reproductive features.
The advantages of taking Swiss Pharmaceuticals HALODROL include:
An increase in muscle mass leads to larger and stronger muscles. It also improves vascularity and results in better muscle pumps. Testosterone levels increase, which then decrease fat and protects against muscle breakdown. Plus, it also cuts down on recovery time.
COMPOSITION
Serving Size: 1 Capsule
Servings Per Container: 80
| | |
| --- | --- |
| Amount Per Serving | |
| HALODROL (4-chloro-17a-methyl-androst-1,4-dien-3-17-Diol) | 30mg |
Other ingredients: gelatine, magnesium stereate
DIRECTIONS OF USE
Dosage: 1 capsule daily with sufficient liquid. Higher dosage for advanced users should be discussed with a doctor or specialist.
Supplements are no substitute for a healthy diet. Consumption and use is at your own risk. Take this product only if you are healthy and over 18 years old. Consult a doctor before use and do not exceed the recommended daily intake. Please do not combine this product with alcohol, drugs or medicines. This product must not be allowed to get into the hands of children. Store in a cool and dry place after opening.
REVIEWS
There is no review
Atsiliepimas Atsiliepimas