SEX IMPROVEMENT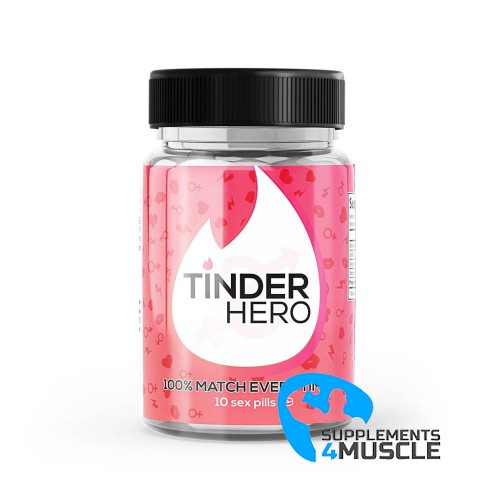 
DESCRIPTION
COMPOSITION
DIRECTIONS OF USE
REVIEWS
DESCRIPTION
Tinder Hero 10caps
Tinder Hero 10 capsules is an advanced sexual enhancer and libido enhancer. It is formulated with the freshest patents, like Nitro Rocket™ and CellFlo6™, that enhance erections. The components in Tinder Hero are meant to ignite sex drive and permit a higher level of sexual gratification. This supplement is beneficial for those suffering from low libido and erection troubles.
Do you need to guarantee success? Utilize Tinder Hero and you will have total command over the scenario and fulfill all of your companion's desires.
Tinder Hero is:
Rapid and long-lasting penile erections,
Significantly increased sex drive,
Heightened pleasurable feelings,
Enhanced management of intimate scenarios,
An improved sense of self-assurance,
Total contentment with sexual encounters.
Who is Tinder Hero recommended for?
This supplement is for those having difficulties getting aroused. It offers a range of benefits, like an increased libido, heightened sexual desire and improved self-esteem. It contains strong and reliable ingredients which mimic the effects of Viagra. This product provides you with the ability to have control over your body, blocking out tiredness that can impede activities. Taking Tinder Hero can additionally help enhance your disposition, resulting in more gratification during sexual activity.
Nitro Rocket™ is patented and contains 200mg of a potent formula that is designed to boost the body's nitric oxide levels. This action causes more blood to be delivered to the penis and results in a solid and enduring erection. Nitric oxide is a critical component of achieving an erection and optimal sexual performance, and Nitro Rocket™ facilitates powerful and sustained erectile activity.
CellFlp6™ - 100 mg is a patented mixture of catechins derived from polyphenol sources, such as green tea. These compounds have a strong effect on the expansion of your blood vessels, which consequently promotes the circulation of blood and oxygen throughout your body. This active ingredient is formed by galloylated procyanidins, giving it a powerful catechin action with no need of any stronger booster. It is excellent at accelerating the attainment of a full erection, as well as helping to maintain it for an extended period of time.
Deng Sen Extract is a powerful Chinese herb which has been used in many potency blends. It contains 100 mg and is known to elicit strong aphrodisiac properties. These properties are useful in intensifying libido and improving sexual performance. Additionally, Deng Sen Extract helps to elongate intercourse time, making it an effective preventative measure against premature ejaculation.
Yohimbine HCL, a widely used libido enhancer, contains 3 mg of the active ingredient. Taking this aphrodisiac can not only boost one's mood, but also increase confidence in difficult situations, such as being around a potential romantic partner. In addition, it has been shown to positively influence erectile strength and performance.
This proprietary Intense Formula contains 70 mg of a special blend of ingredients intended to give you a powerful and thrilling erection, sure to blow your lover's mind. This supplement is designed so you can get as strong an erection as possible, and outperform what famous blue pills can provide. So trust the formula and reap the amazing benefits of an erection enhancer!
COMPOSITION
Serving Size: 1 Capsule
Servings Per Container: 10
| | |
| --- | --- |
| | Amount Per Serving |
| Nitro Rocket™ | 200mg |
| CellFlo6™ | 100mg |
| Deng Sen Extract | 100mg |
| Yohimbine HCL | 3mg |
| Proprietary Intense Formula | 70mg |
DIRECTIONS OF USE
Dosage: 1 tablet 1-2 hours before intercourse.
REVIEWS
There is no review
Atsiliepimas Atsiliepimas