PROHORMONES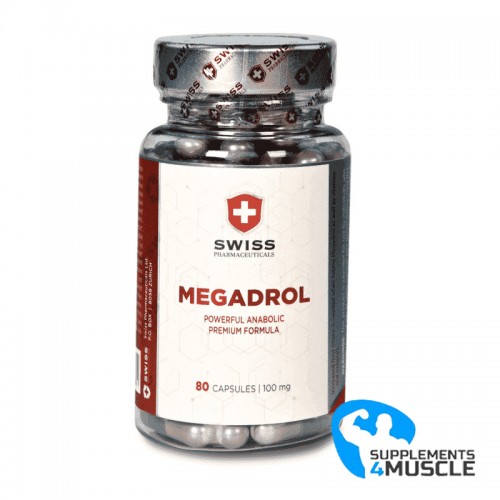 
Swiss Pharmaceuticals MEGADROL 80 caps
Intelligent mixture of 3 effective prohormones for high-quality muscle mass in the shortest time!
DESCRIPTION
COMPOSITION
DIRECTIONS OF USE
REVIEWS
DESCRIPTION
Swiss Pharmaceuticals MEGADROL 80caps
Do you desire to burn off that pesky fat still creating muscle? Buy Swiss Pharmaceuticals Megadrol 80 caps for the maximum outcome from 1-Androl (Androstebol), Trenavar, and Epistan. Admire the rewards of firm muscles and a ripped physique.
One of the best benefits of Swiss Pharmaceuticals Megadrol 80 capsules is that they let you train more intensely and for extended amounts of time without feeling worn out or sore muscles. Additionally, taking a cycle of Swiss Pharmaceuticals Megadrol 80 tablets will always end in clean and dry muscle gains that are not accompanied by fluid retention.
MEGADROL from Swiss Pharmaceuticals is widely known internationally as well as in Switzerland due to its mix of three dynamic prohormones: 1-Andro (Androstebol), Epistan, and Trenavar.
Megadrol encourages incredibly well-defined muscles, providing you with an excellent base tension level even when not in use and producing a firm, toned look freed from additional fats and retained liquids. Besides increasing your muscle mass, this product also helps reveal your lean and strong muscles.
Epistan (Epistane, Epi) is a new yet secure prohormone that can be bought. It has a powerful anti-estrogenic ability which is classed as an androgen-anabolic steroid. Epistan can lead to impressive muscular enhancement. By combining Epi with 1-Andro and Trenavar in Megadrol, its effectiveness is increased by a whopping 38% when compared to taking it on its own.
1-Andro, also known as 1-Androsterone, 1-DHEA, or Androstebol, is a potent and extremely effective anabolic steroid prohormone, far stronger than testosterone itself. Its effects resemble that of an anabolic steroid, allowing the user to experience enhanced strength and muscle mass, as well as decreased levels of body fat.
Trenavar is known to provide impressive muscle definition and a huge pump. It has been noted to be around 10 times more productive than testosterone, giving it a low androgenic but very powerful anabolic effect. If taken, it is likely you will experience a remarkable increase in muscle size in a limited time frame.
Make your dream of impressive gains in muscle size and explosive energy a reality with Swiss Pharmaceutical's Megadrol 80 capsules. Buy now!
COMPOSITION
Serving Size: 1 Capsule
Servings Per Container: 80
| | |
| --- | --- |
| Amount Per Serving | |
| Trenavar (Estra-4,9,11 -triene-3, 17-dione): | 30mg |
| Epistane (2a,3a-Epithio-17a-methyl-17ß-hydroxy-5a-androstane): | 20mg |
| 1-Andro (1-Androstene-3b-ol-one): | 50mg |
Other ingredients: gelatine, magnesium stereate
DIRECTIONS OF USE
Dosage: 1 capsule 2 to 3 times daily with sufficient liquid. No longer than 12 weeks, then 2 weeks break. No more than 3 capsules per day. Higher dosage for advanced users should be discussed with a doctor or specialist.
Supplements are no substitute for a healthy diet. Consumption and use is at your own risk. Take this product only if you are healthy and over 18 years old. Consult a doctor before use and do not exceed the recommended daily intake. Please do not combine this product with alcohol, drugs or medicines. This product must not be allowed to get into the hands of children. Store in a cool and dry place after opening.