SARMS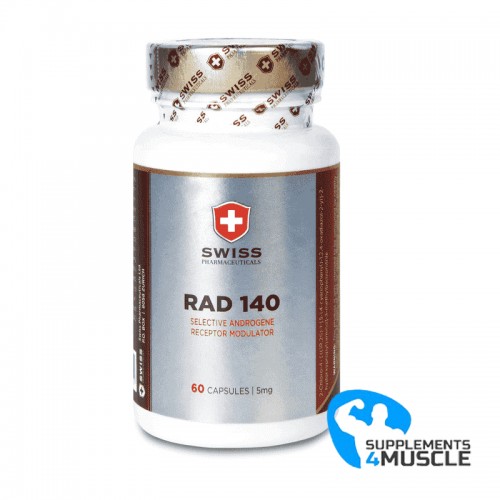 
DESCRIPTION
COMPOSITION
DIRECTIONS OF USE
REVIEWS
DESCRIPTION
Swiss Pharmaceuticals RAD-140 60caps
RAD140, also known as testolone, is categorized as one of the "newer" Selective Androgen Receptor Modulators (SARMs). One of the greatest benefits of this SARM is that it can offer massive doses of testosterone without undesirable side effects. Its effects can be compared to testosterone, but with a greater anabolic effect. It has been proposed that RAD140 could eventually be used as an alternative form of hormone therapy, which would replace the current medications due to its powerful effects, in addition to its minor side effects.
RAD 140 (Testolone) is the most recent addition to the group of selective androgen receptor modulators, more commonly referred to as SARMS. This has a great benefit as compared to anabolic steroids by providing comparable positive outcomes with almost no side effects. It is an incredibly unique compound even when compared to other SARMS.
It could take years of dedicated work in the gym before you can reach true workout excellence. But with Swiss Pharmaceuticals RAD-140, that time can be drastically reduced! This special Selective androgen receptor modulator is able to give you the same anabolic effects, but without the added body fat. And not only does it help you build solid muscle, it also helps you shorten your recovery time after strenuous exercise, aerobic activity, and workout regimes.
Swiss Pharmaceuticals RAD-140 is a much better and safer alternative to testosterone replacement therapy. It helps to rapidly improve testosterone levels without the issue of onerous side effects. Additionally, it works to guard the brain from age-related deterioration. Furthermore, this product helps you with protein mixture, nitrogen conservation, strength, and power output in the gym without experiencing ache or exhaustion. Don't wait for a miracle, order Swiss Pharmaceuticals RAD-140 now!
COMPOSITION
Serving Size: 1 Capsule
Servings Per Container: 60
| | |
| --- | --- |
| Amount Per Serving | |
| RAD140 (Testolone) | 5mg |
Other ingredients: gelatine, magnesium stereate
DIRECTIONS OF USE
RECOMMENDED DOSAGE: Take 1 capsule with 250ml water daily. Take a maximum of 2 capsules a day. Higher dosage for advanced users should be consulted with your doctor or specialist. Swiss Pharmaceuticals is not responsible for health problems caused by incorrect dosing.
REVIEWS
There is no review
Atsiliepimas Atsiliepimas