SARMS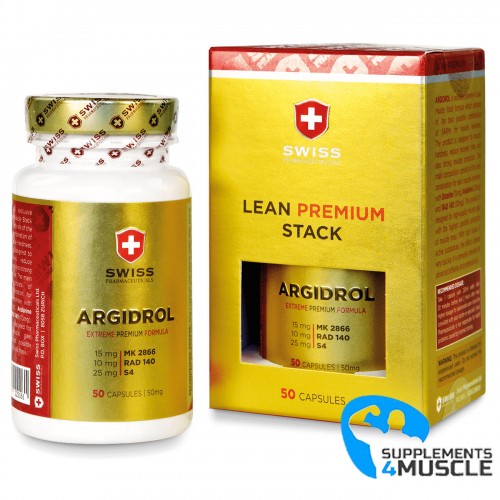 
Swiss Pharmaceuticals ARGIDROL 50 caps
Mix of 3 SARMs for rock-hard muscle mass, massive fat burning and more vascularity.
DESCRIPTION
COMPOSITION
DIRECTIONS OF USE
REVIEWS
DESCRIPTION
Swiss Pharmaceuticals ARGIDROL 50caps
Argidrol is a highly effective mixture of SARMs that greatly boosts muscularity. Users can expect their muscles to become harder, with more visible veins and more definition. As this supplement is suitable for advanced users, it should not be used by those with limited experience.
SARMs, which stands for selective androgen receptor modulators, are substances that bind to androgen receptors and mimic anabolic and androgenic steroids, but with fewer or no adverse effects. In order to gain optimal outcomes, this SARM stack involves a carefully formulated combination of three active components: MK 2866 (Ostarine), RAD 140 (Testolone) and S4 (Andarine).
MK 2866 (Ostarine) helps in the formation of solid muscles, without extra fat or fluid.
Testolone (RAD 140) is an anabolic agent that offers an abundance of testosterone in the body.
Andarine (S4) increases your metabolism, aiding in weight loss and giving you impressive definition.
The advantages of using substances from the Swiss pharmaceutical company Argidrol are:
Significantly enhanced muscle strength
Increased signs of blood vessel visibility (veins showing)
Formidable muscularity
Chiseled and perfected form.
Argidrol, a SARM stack, can help you achieve a noticeable increase in your muscle mass. Buy it now on Supplements4muscle!
COMPOSITION
Serving Size: 1 Capsule
Servings Per Container: 50
| | |
| --- | --- |
| Amount Per Serving | |
| MK-2866 (Ostarine) | 15mg |
| RAD 140 (Testolone) | 10mg |
| S4 (Andarine) | 25mg |
Other ingredients: gelatine (capsules), magnesium stereate
DIRECTIONS OF USE
Dosage: 1 capsule with about 250 ml water per day. Maximum 12 weeks in a row. Always start with the lowest dose to test tolerance.
Supplements are no substitute for a healthy diet. Consumption and use is at your own risk. Take this product only if you are healthy and over 18 years old. Consult a doctor before use and do not exceed the recommended daily intake. Please do not combine this product with alcohol, drugs or medicines. This product must not be allowed to get into the hands of children. Store in a cool and dry place after opening.
REVIEWS
There is no review
Atsiliepimas Atsiliepimas