PROHORMONES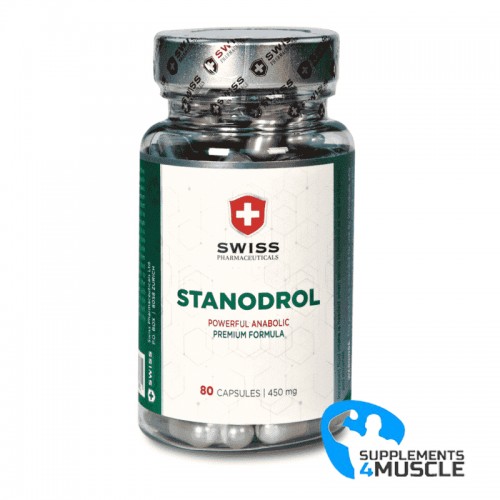 
Swiss Pharmaceuticals Stanodrol 80 caps
Powerful and popular anabolic steroid/prohormone for increased fat loss and enormous growth in lean muscle mass.
DESCRIPTION
COMPOSITION
DIRECTIONS OF USE
REVIEWS
DESCRIPTION
Stanodrol
Swiss Pharmaceuticals STANODROL contains the active ingredient stanodrol, which is also called epiandrosterone or epi-andro. This designer steroid hormone originates from dehydroepiandrosterone (DHEA). Therefore, epi-andro provides the same benefits as DHEA; and that is why it is also known as dehydroepiandrosterone.
STANODROL is classified as a prohormone, not a pure anabolic steroid. Once taken, it gets converted into dihydrotestosterone, which is a form of testosterone. This compound is thought to result in a more androgenic and anabolic effect than testosterone does. In addition, it can help to improve the absorption of the crucial amino acids for the development of muscle tissue, and safeguarding the already existing muscle from deterioration.
On top of that, STANODROL effectively reduces fat in the lower body, making your muscles look larger and more noticeable. An extra benefit of taking the prohormone is an increased libido. Since Stanodrol does not modify its molecular structure, there are no side effects detrimental to the liver. Still, it is recommended to also take an OCT or PCT supplement for cycle support.
The Swiss Pharmaceuticals STANODROL benefits:
Gaining more energy and enthusiasm, gaining bulking and articulated muscle mass, increasing vascular muscle size, boosting libido levels, decreasing fat, and being ideal for those just starting out with using prohormones.
COMPOSITION
Serving Size: 1 Capsule
Servings Per Container: 80
| | |
| --- | --- |
| | Amount Per Serving |
| 3-beta-hydroxyetioallocholan-17-one | 200mg |
| 18-methylester-4en-3-one-17b-ol | 50mg |
| N-Acetyl Cysteine | 100mg |
| Milk Thistle | 100mg |
DIRECTIONS OF USE
Dosage / Recommended Intake: 1 capsule daily with sufficient liquid. Higher dosage for advanced users should be discussed with a doctor or specialist.
Supplements are no substitute for a healthy diet. Consumption and use is at your own risk. Take this product only if you are healthy and over 18 years old. Consult a doctor before use and do not exceed the recommended daily intake. Please do not combine this product with alcohol, drugs or medicines. This product must not be allowed to get into the hands of children. Store in a cool and dry place after opening.
REVIEWS
There is no review
Atsiliepimas Atsiliepimas