PROHORMONES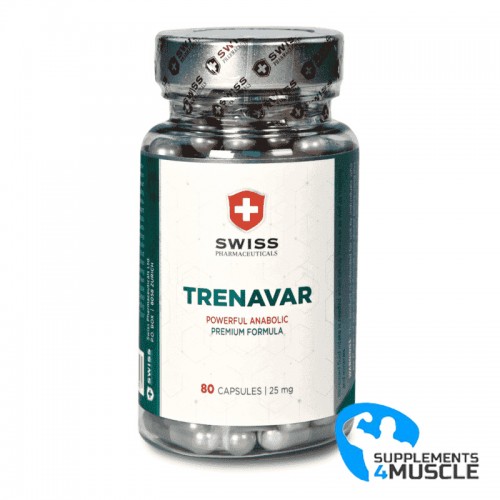 
Swiss Pharmaceuticals TRENAVAR 80caps
Buy TRENAVAR. You want to do better? You're looking for more strength, more muscle mass and blatant definition? Then try Trenavar Swiss Pharmaceuticals!
DESCRIPTION
COMPOSITION
DIRECTIONS OF USE
REVIEWS
DESCRIPTION
Swiss Pharmaceuticals TRENAVAR 80caps
Trenavar - otherwise referred to as trendione - is a widely-used prohormone. Bodybuilders and strength athletes frequently use it as it can effectively enhance muscle growth, fat loss, and strength. TRENAVAR by Swiss Pharmaceuticals is a prohormone, not an anabolic steroid, and is renowned for its quick results and its short cycle duration.
You can utilize Trenavar during either the bulking or cutting phase due to its low water retention capacity as well as its capability to cultivate an anabolic atmosphere for muscle growth.
The advantages of Swiss Pharmaceuticals' TRENAVAR product include:
A large boost in muscle power, expanded muscle mass and size, a quicker burning of fat, more apparent veins, and no hormonal influences leading to swift and obvious results.
Trenavar has an exceptionally high transformation rate compared to other widely used prohormones, hence guaranteeing users get the most out of it.
Trenbolone, derived from Trenavar, increases testosterone levels as well as resulting in massive gains in muscle development. Both of these powerful effects are androgenic and anabolic in nature.
Research has proved that taking trenbolone is beneficial in building lean muscle, without adding additional water weight or making the body seem bloated.
A four-week course of Swiss Pharmaceuticals TRENAVAR is commonplace. It is recommended to take a Cycle Support supplement after you finish the four-week cycle. Curious to try TRENAVAR? Then place an order with Supplements4muscle immediately!
COMPOSITION
Serving Size: 1 Capsule
Servings Per Container: 80
| | |
| --- | --- |
| Amount Per Serving | |
| Trenavar (Estra-4,9,11-triene-3,17-dione) | 25mg |
Other ingredients: gelatine, magnesium stereate
DIRECTIONS OF USE
Dosage: Take 1 capsule daily with 250 ml of water. Higher dosage for advanced users should be discussed with a doctor or specialist.
Supplements are no substitute for a healthy diet. Consumption and use is at your own risk. Take this product only if you are healthy and over 18 years old. Consult a doctor before use and do not exceed the recommended daily intake. Please do not combine this product with alcohol, drugs or medicines. This product must not be allowed to get into the hands of children. Store in a cool and dry place after opening.
REVIEWS
There is no review
Atsiliepimas Atsiliepimas