PROHORMONES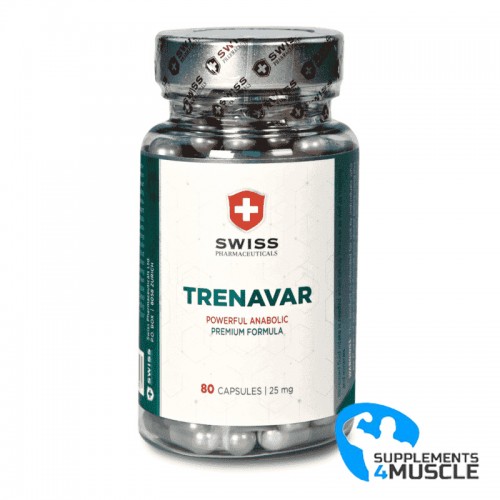 
Swiss Pharmaceuticals TRENAVAR 80caps
Buy TRENAVAR. You want to do better? You're looking for more strength, more muscle mass and blatant definition? Then try Trenavar Swiss Pharmaceuticals!
DESCRIPTION
COMPOSITION
DIRECTIONS OF USE
REVIEWS
DESCRIPTION
Swiss Pharmaceuticals TRENAVAR 80caps
Trenavar, also called trendione, is a popular prohormone. Because of its ability to promote muscle growth, fat loss and strength gains, it is often used by bodybuilders and strength athletes. The supplement Swiss Pharmaceuticals TRENAVAR (Estra-4,9,11-trien-3,17-dione) is a prohormone - not an anabolic steroid. The preparation is known for its fast results and short cycle duration.
Because of its low water retention rate and its ability to promote an anabolic or muscle-building environment, you can use Trenavar during the definition phase or the mass phase.
The benefits of Swiss Pharmaceuticals TRENAVAR:
Significant increase in overall strength
Increases size and mass growth
Faster fat reduction
Increased vascularity
Has no estrogenic effects
Quickly and clearly visible successes
High conversion rate: Trenavar has one of the highest conversion rates among the popular prohormones This ensures that users get the maximum benefit.
Androgenic and anabolic: Trenbolone (the steroidal compound into which Trenavar is converted) is an extremely anabolic compound that promotes high testosterone levels (androgenic) and tremendous muscle growth (anabolic).
Increase in lean muscle mass: Studies show that trenbolone is an effective means of gaining lean muscle tissue. And this without water retention or a bloated appearance.
Swiss Pharmaceuticals TRENAVAR is normally taken during a four-week cycle. Once you have completed your four-week cycle, a Cycle Support (PCT supplement) after the cycle is advisable. You want to test TRENAVAR yourself? Then order now at Supplements4muscle!
COMPOSITION
Serving Size: 1 Capsule
Servings Per Container: 80
| | |
| --- | --- |
| Amount Per Serving | |
| Trenavar (Estra-4,9,11-triene-3,17-dione) | 25mg |
Other ingredients: gelatine, magnesium stereate
DIRECTIONS OF USE
Dosage: Take 1 capsule daily with 250 ml of water. Higher dosage for advanced users should be discussed with a doctor or specialist.
Supplements are no substitute for a healthy diet. Consumption and use is at your own risk. Take this product only if you are healthy and over 18 years old. Consult a doctor before use and do not exceed the recommended daily intake. Please do not combine this product with alcohol, drugs or medicines. This product must not be allowed to get into the hands of children. Store in a cool and dry place after opening.
REVIEWS
There is no review
Atsiliepimas Atsiliepimas