TESTOSTERONE BOOSTERS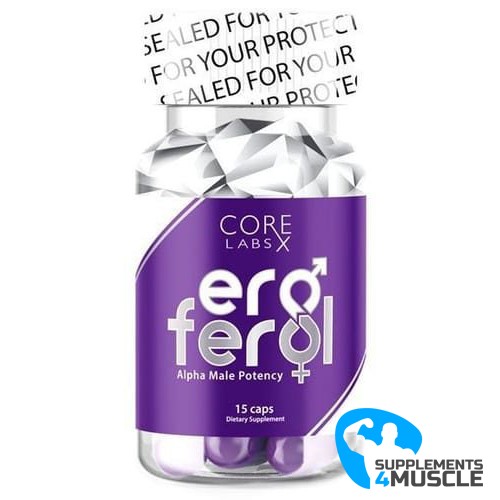 
Core Labs X Ero Ferol 15 caps
Increase in strength, energy, endurance, focus, muscle pump, and penile vasodiliation
Explosive Libido and Sex Drive
Improved Erection Strength and Volume
DESCRIPTION
COMPOSITION
DIRECTIONS OF USE
REVIEWS
DESCRIPTION
Core Labs X Ero Ferol 15 caps
Looking for the best testosterone boosters for men? Suffering from low testosterone levels? Want to increase sex drive and improve sexual function? Try Core Labs X Ero Ferol to improve muscle mass, size, and definition. Improve your sex life and libido like never before. Discover the unmatched potential of Core Labs Ero Ferol to improve your mood and overall sense of well-being. Order Eroferol Core Labs now and improve red blood cell production in the body and manage blood glucose and blood pressure in a quick time.
Core Labs X Ero Ferol 15 caps. Would you like to increase your sexual performance? Expect new and unforgettable experiences? Or maybe you have erection problems? Do not let anything you limited! Eroferol help you in any situation, immediately altering your sex life! Wake up to the real beast and give joy to your partner! Stay on standby whenever you want! Show how much you can afford to increase your sexual capabilities. Already 1 capsule will be on stand up to 72 hours! Eroferol is an innovative product increases blood flow to the corpus cavernosum, raising libido and testosterone levels while lowering prolactin. Supports the achievement of full and lasting erection, thereby allowing for a longer, more satisfying sex. Eroferol give you more control over your erections, so you no longer have to worry about premature ejaculation. Enjoy any rapprochement with the assurance that they never disappoint! Start derive more joy out of sex, increasing the intensity of your feelings!
Ero Ferol testosterone booster helps you increase lean muscle mass while gaining energy, stamina, power, and endurance. Buy Eroferol Core Labs to enhance the bone mineral density and athletic performance. Support your internal organs and muscles with Core Labs Ero Ferol. Experience the best of faster processing speed and verbal memory with Core Labs Ero Ferol which also improves your cognitive performance. Order Core Labs X Ero Ferol now!
COMPOSITION
Serving Size: 1 capsule
Servings Per Container: 15
| | |
| --- | --- |
| Amount Per Serving | % Daily Value |
| Epimedium Extract (Horny Goat Weed)(Standardized to 70% Icariin) | 500 mg |
| Mucuna Pruriens (99% L-dopa) | 100 mg |
| Tongkat Ali (Eurycoma longifolia Jack Extract) | 100 mg |
| Grape Seed Extract 95% | 30 mg |
| Tadalafil | 25 mg |
| Naringenin | 20 mg |
DIRECTIONS OF USE
Take 1 capsule a day for maximum of 3 days with at least 1 day off before resuming.