SARMS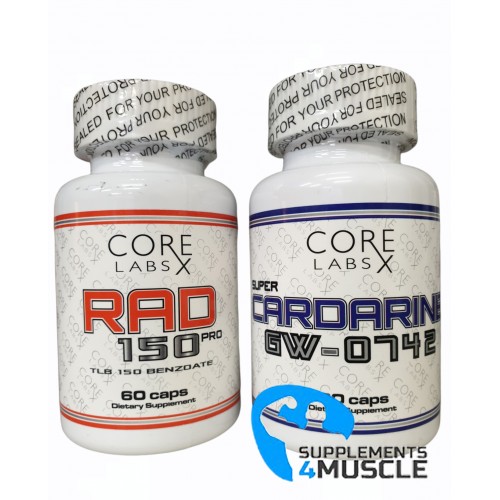 
DESCRIPTION
COMPOSITION
DIRECTIONS OF USE
REVIEWS
DESCRIPTION
Core Labs X RAD 150 Pro 60caps
Consider taking Sarm Core Labs RAD 150 to stimulate muscle hypertrophy, a consequence of weight training.
TLB-150 benzoate, otherwise known as RAD-150, is a revolutionary sarm. It is an anabolic ester that has caused a stir as the highest standard of sarm technology and has demonstrated great results.
Rad-150 is more similar to how the body reacts to natural testosterone when compared to sarm that has not been esterified.
RAD-150, alternatively referred to as TLB-150 benzoate, is a recently developed sarm that possesses anabolic attributes. This promising new gadget is the final product in a string of sarm advancements and promises an extraordinary degree of effectiveness.
Rad 150 has more of a similarity to natural testosterone in the body than unesterified sarm does.
RAD-150, which is esterified RAD-140, only attaches to androgen receptors in muscle and does not have an effect on other parts of the body. The longest half-life of this chemical compared to RAD-140, allows for a lower dosage frequency, making it more financially feasible than its predecessor. Which also means that in the event of a missed dosage, it can still maintain its anabolic ability.
RAD-150 is uniquely connected to androgen receptors in muscle tissue and not any other organs. Similar to other sarms, it attaches to androgen receptors in skeletal muscle tissue. Since RAD-150 is a form of RAD-140 that has been esterified, its duration in the body is longer which means the dosage frequency can be lower if desired, making it more affordable than RAD-140. The longer duration also prevents a reduction in anabolic response if a dose is missed.
RAD 150 is a SARM that can help build muscle while avoiding androgenic side effects, shortening muscle recovery time, and not damaging the liver. It also has a much longer half-life and better absorption rate than other SARMs, with no negative side effects when taken as directed and no hair loss. What makes RAD 150 different from RAD 140?
RAD-140 initially came to light as a way to get the same effects of testosterone replacement therapy, but with a reduced amount of risk. The components of RAD-150 are much like those of testosterone, except they include an extra group of Benzoate esters. The acidity level in RAD-150 is much higher than that of testosterone, which makes it more stable. Due to its closer similarities to testosterone, RAD-150 binds to androgen receptors with more ease.
RAD-150 is an anabolic compound which acts more quickly and stays in the body longer than other forms of Sarms.
These anabolic compounds have been designed to have higher bioavailability which enables the body to absorb them more quickly. Additionally, the compounds have a longer half-life compared to others, which allows for the body to eliminate the compound more gradually. Taking RAD-150 will cause it to start functioning nearly immediately and can last maximum of 48 hours or longer. Both RAD-140 and RAD-150 are ideal to be used in conjunction. As a plus, combining sarms and growth hormones have the potential to augment the action of the compounds.
Benzoate TLB 150 is a compound that encourages major muscle expansion as well as aids in diminishing fat deposits. Sarm RAD-150 helps to hasten the repair of muscles after exercise. In addition, users may observe improved sex drive and improved sexual capacity.
NAC is an acetylated variation of l-cysteine, which helps the body to regenerate by releasing its own glutathione. This product also promotes recovery and enhances workout performance. Cysteine has been identified as a factor in bettering the body's antioxidant activity, bolstering immunity, combating viral and bacterial infections, thwarting catabolism, and conserving muscle mass.
Vitamin E helps reduce the oxidation of low-density lipoprotein (LDL) cholesterol, which is involved in the production of arterial plaque. It also assists in the synthesis of blood thinning agents, which keep the cell walls fluid and inhibit the aggregation of platelets. For this reason, it is recommended for individuals whose cholesterol levels are high, and has been linked to a decrease in the risk of myocardial infarction. Some studies have also suggested it has anti-cancer properties, and is believed to have a positive effect on insulin and glucose levels.
Core Labs X Cardarine GW-0742 60 caps
The Sarm GW-0742 supplement from GlaxoSmithKline, a selective PPAR, offers many advantages including a notable increase in muscle mass, burning fat efficiently, enhancing training capability, providing neuroprotection, and promoting healthy joints. Unlike other compounds, it operates differently than hormones so it is suitable for both male and female users.
GW-0742 stands out from GW-501516 in terms of its increased synthesis and biological activity, being up to 200 times more powerful. This makes it the best option currently for clinical research related to PPARβ/δ agonist. In addition, GW-0742 has been found to be quickly effective in decreasing body fat and increasing muscle mass, and has been shown to provide tangible results even after the first dose. It is also versatile enough to be combined with other Sarms.
Agonists of PPARβ/δ, of which GW-0742 is a relevant example, can be utilized for a variety of purposes, like treating diabetes and burning fat. It has been established that PPARβ/δ facilitates GLUT4's entry into the skeletal muscles, which is responsible for glucose absorption by the tissue. Additionally, studies have demonstrated that the intake of PPAR agonists can augment amounts of HDL (good cholesterol), resulting in a heightened rate of reverse cholesterol transport. Reports also suggest that PPARδ maintains a vital role in helping macrophages uptake lipids.
Cardarine GW-0742 helps to reduce fat and improve energy metabolism by increasing the uptake of glucose in the muscles. As opposed to reducing blood sugar levels, this product will transform fat into energy. Developed originally to manage obesity and other metabolic issues, it is becoming increasingly popular as it is even more effective than the older version, Cardarine, for burning fat.
Super Cardarine GW-0742 is advantageous when it comes to constructing muscle mass. It works through encouraging the declaration of anti-inflammatory proteins IL-10 and TGF-β mRNA. Studies demonstrate that it significantly advances the speed of myogenesis, and if the muscles are harmed, recuperation is accomplished in half the time.
Cardarine GW-0742 increases the oxidation of fats by enlarging the amount of mitochondria in cells. This element takes benefit of the fat stored in our cells, as well as any dietary fats, utilizing them as the most important energy source. Muscular strength and the persistent performance of aerobic activities are improved when more mitochondria are incorporated into muscles. This also increases effectiveness in metabolic tasks and ultimately leads to the creation of more ATP.
Research indicates that the consumption of Super Cardarine GW-0742 may undo modifications to astrocytes (nerve cells vital to remembering), thus shielding against conditions that damage the nervous system.
GW-0742 Super Cardarine aids the formation of cartilage, encouraging protection of the joints from damage and deterioration. Its positive effect on cartilage and joints increases the production of type II collagen and glycosaminoglycan, important parts of human cartilage.
Furthermore, it has been demonstrated that taking the drug GW-0742 can cause a heightened release of the protein transformation growth factor beta (TGF-β). This compound works to lessen ossification, abate inflammation, and reinforce steadiness of cartilages in the joints.
COMPOSITION
Core Labs X RAD 150 Pro 60caps
Serving Size: 1 Capsule
Servings per Container: 60
| | |
| --- | --- |
| Amount Per Serving | |
| NAC (N-Acetyl L-Cysteine) | 350mg |
| Vitamin E (TPGS) | 10mg |
| TLB 150 Benzoate (RAD-150) | 10mg |
Other Ingredients: Ascorbic Acid, Magnesium Carbonate, Calcium Gluconate, Potassium Gluconate, Zinc Gluconate, Magnesium Stearate, Silicon Dioxide.
Core Labs X Cardarine GW-0742 60 caps
Serving Size: 1 Capsule
Servings per Container: 60
| | |
| --- | --- |
| Amount Per Serving | |
| NAC (N-Acetyl L-Cysteine) | 350mg |
| Vitamin E (TPGS) | 10mg |
| Cardarine 2.0 (GW-0742) | 10mg |
Other Ingredients: Ascorbic Acid, Magnesium Carbonate, Calcium Gluconate, Potassium Gluconate, Zinc Gluconate, Magnesium Stearate, Silicon Dioxide.
DIRECTIONS OF USE
Core Labs X Cardarine GW-0742 60 caps
As a dietary supplement, take 1-2 capsules per day for 8-12 weeks. Do not exceed 2 capsules in a 24 hour period and do not take for more than 14 weeks continuous use without a 4 week break between cycles.
Core Labs X RAD 150 Pro 60caps
Take 1-2 capsules a day . The course is 6-8 weeks. Do not exceed 6 capsules in a 24 hour period and do not take for more than 8 weeks continuous use without a 4 week break between cycles.
REVIEWS
There is no review
Atsiliepimas Atsiliepimas