SARMS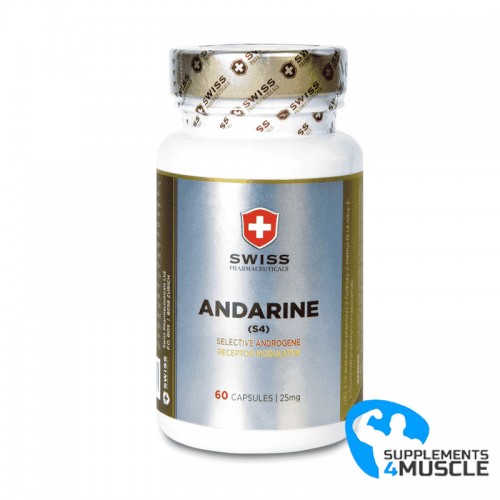 
DESCRIPTION
COMPOSITION
DIRECTIONS OF USE
REVIEWS
DESCRIPTION
Swiss Pharmaceuticals Andarine S4 60caps
Due to its strong attraction to androgen receptors, Andarine shows remarkable fat burning abilities. Studies showcase its effectiveness in reducing lipoprotein lipase, an enzyme involved in fat storage. Since it has anabolic and androgenic properties in muscle, Andarine can help people slim down while keeping or even building their muscle mass at the same time. Based on user reviews, it seems that the supplement also helps users achieve great muscle definition and keep their water retention under control.
Are you in the market for a top-notch cutting cycle SARM to trim down body fat? Swiss Pharmaceuticals Andarine S4 60 caps is your perfect pick! Andarine provides assistance in developing and sculpting muscles while burning off stubborn abdominal and visceral fat. A great supplement for recompositioning the body, Andarine makes it simple to fulfill all of your body toning ambitions. Not only does it raise the density of your bones, but it boosts blood circulation and oxygen flow for enhanced vascularity. For maximum benefits, stack it with Ostarine, Nutrobal, RAD-140, or Cardarine.
Be prepared to shed those additional pounds around your waistline that have troubled you for quite a while. Buy Swiss Pharmaceuticals Andarine S4 60 capsules right away!
COMPOSITION
Serving Size: 1 Capsule
Servings Per Container: 60
Amount Per Serving

Andarine S-4

(2S) -3- (4-acetamido-phenoxy) -2-hydroxy-2-methyl-N- (4-nitro-3-trifluoromethyl-phenyl) -propionamides

25mg
Other ingredients: gelatine, magnesium stereate
DIRECTIONS OF USE
RECOMMENDED DOSAGE: Take 1 capsule with 250ml water daily. Take a maximum of 2 capsules a day. Higher dosage for advanced users should be consulted with your doctor or specialist. Swiss Pharmaceuticals is not responsible for health problems caused by incorrect dosing.
REVIEWS
There is no review
Atsiliepimas Atsiliepimas