SARMS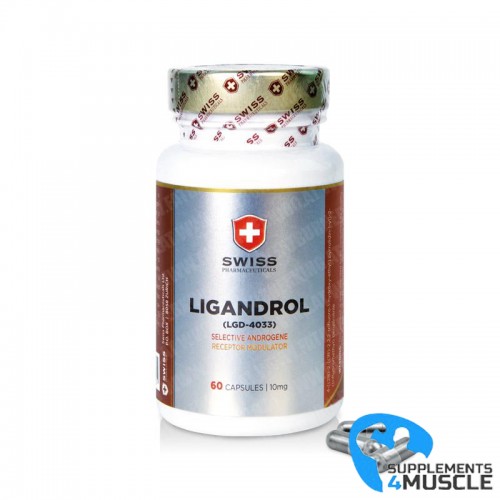 
Swiss Pharmaceuticals LGD-4033 60 caps
Muscle growth
Improving of muscular hardness
Body fat loss
Healing properties
It does not cause undesirable side effects
DESCRIPTION
COMPOSITION
DIRECTIONS OF USE
REVIEWS
DESCRIPTION
Swiss Pharmaceuticals Ligandrol (LGD-4033) 60caps
Ligandrol, known by its scientific label LGD-4033, is a SARM (selective androgen receptor modulator) that has been created to help people with conditions like aging, osteoporosis, muscle wastage, and cancer.
Recently, there has been a lot of interest in LGD in the sports world. Even though it's not a steroid, Ligandrol has been receiving press for athletes getting in trouble for taking banned performance-improvement supplements. A lot of bodybuilders are researching SARMs as an alternative.
LGD-4033 is an incredibly effective SARM oral supplement that binds to the androgen receptor to give similar results as anabolic steroids. It is the strongest of its kind when it comes to body mass gains.
This particular product is beneficial for treating both short-term and long-term illnesses related to muscle wastage stemming from old age or cancer. It is much safer than testosterone and conveys anabolic results in bones and muscles with no toxic effects on the prostate or sebaceous glands like certain steroids.
The advantages of utilizing this method include increased muscle size, increased muscle firmness, decreased body fat, improved healing capabilities, and no negative results.
Swiss Pharmaceuticals' LGD-4033 SARM has been referred to as a "hidden monster" that is prepared to revolutionize your workout regimen. Renowned as one of the strongest SARMs offered, LGD-4033 has been shown to rapidly aid the expedited healing of muscles, as well as promoting fat loss while improving overall endurance. In addition, LGD-4033 has been associated with the hardening of muscle and increased gains as it pertains to both muscle mass and definition. With such impressive effects, Swiss Pharmaceuticals' LGD-4033 can bring about a dramatic new physique and give you the presence of a powerful beast while lifting weights.
COMPOSITION
Serving Size: 1 Capsule
Servings Per Container: 60
Amount Per Serving

Ligandrol LGD-4033:

4 - [(2R) -2 - [(1R) -2,2,2-trifluoro-1-hydroxy-ethyl] pyrrolidine-1-yl] -2- (trifluoromethyl) benzonitriles

10mg
Other ingredients: gelatine, magnesium stereate
DIRECTIONS OF USE
RECOMMENDED DOSAGE: Take 1 capsule with 250ml water daily. Take a maximum of 2 capsules a day. Higher dosage for advanced users should be consulted with your doctor or specialist. Swiss Pharmaceuticals is not responsible for health problems caused by incorrect dosing.
REVIEWS
There is no review
Atsiliepimas Atsiliepimas