Joint support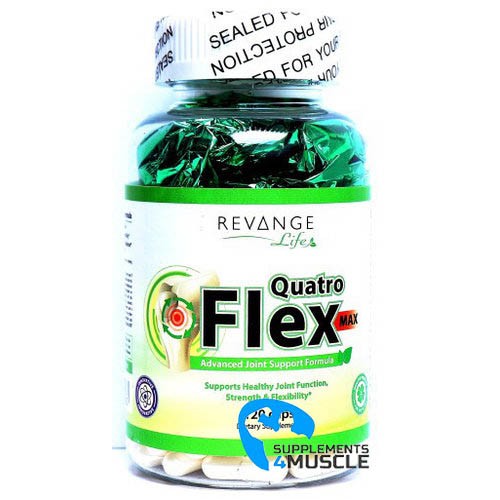 
Revange Life Quatro Flex Max 120caps
Supports Healthy Joint Function
Improves Joint Strength & Flexibility
Repairs & Rebuilds Cartilage Resillience
Relieves & Prevents Joint Pain
DESCRIPTION
COMPOSITION
DIRECTIONS OF USE
REVIEWS
DESCRIPTION
Revange Life Quatro Flex Max
Quatro Flex is a joint health supplement that is specifically formulated for extreme athletes. It's multi-pill packets are designed to provide joint lubrication and cushioning for weight lifters, long distance runners, and other individuals that are particularly hard on their connective tissues. Their website says that Quatro Flex is not just an anti-inflammatory pain reliever, as many joint supplements are, but rather it provides the nutritional support necessary to build stronger and healthier connective tissues.
A potent joint construction complex to facilitate repair of connective tissue
A lubrication complex to assist in cushioning the joints from lifting
A support complex to aid in promoting rehabilitation and to diminish* soreness
A key vitamin/mineral support fusion to emphasize optimal joint health
Situations where Quatro Flex is needed:
Intensive training for strength, mass or endurance.

Prohormone Cycle (PH)

Anabolic-androgenic steroid cycle

SARM cycle

When feeling Joint pain during exercise

When Injured or have dislocations of joints

Being overweight when your joints are overworked
COMPOSITION
DIRECTIONS OF USE
As a dietary supplement, take 1 serving (4 capsules) a day.
REVIEWS
There is no review
Atsiliepimas Atsiliepimas