Joint support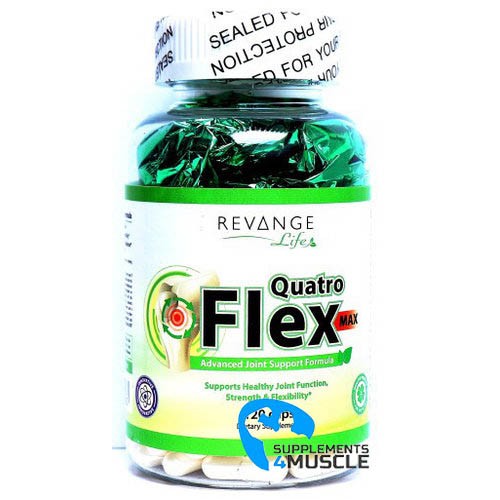 
Revange Life Quatro Flex Max 120caps
Supports Healthy Joint Function
Improves Joint Strength & Flexibility
Repairs & Rebuilds Cartilage Resillience
Relieves & Prevents Joint Pain
DESCRIPTION
COMPOSITION
DIRECTIONS OF USE
REVIEWS
DESCRIPTION
Revange Life Quatro Flex Max
Quatro Flex is a nutritional supplement developed specifically for extreme athletes. Its multi-pill packets are created to support joint lubrication and provide cushioning to those who frequently engage in activities like weight lifting and running. The company states this product is not just a conventional anti-inflammatory medication meant to stop pain- it gives your connective tissues what they need to build up and stay healthy.
Quatro Flex is an effective combination of components that work together to provide relief for joints and promote rehabilitation. It contains a compound to strengthen connective tissue, a lubricant to cushion the joints from pressure, a stabilizing mixture to reduce discomfort, and a blend of essential vitamins and minerals for optimal joint health. Quatro Flex is necessary for those going through intensive training for strength, mass, or endurance; those who are on prohormone, anabolic-androgenic, or SARM cycles; those who experience joint pain during exercise; those with injuries to their joints; and those who are carrying excess weight and putting their joints under strain.
COMPOSITION
DIRECTIONS OF USE
As a dietary supplement, take 1 serving (4 capsules) a day.
REVIEWS
There is no review
Atsiliepimas Atsiliepimas