SARMS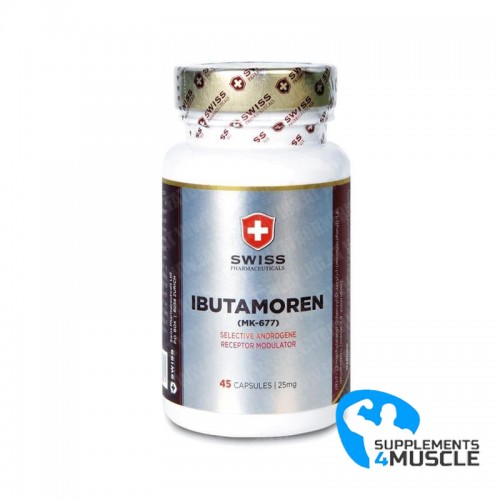 
Swiss Pharmaceuticals MK-677 45 caps
Growth of muscle mass and strength
Endurance improvement
Fat reduction
Recovery acceleration
DESCRIPTION
COMPOSITION
DIRECTIONS OF USE
REVIEWS
DESCRIPTION
Swiss Pharmaceuticals MK-677 45caps
MK-677, a type of SARM, boosts growth hormone levels via the pituitary gland. It is comparable to using exogenous growth hormone for generating results. By taking MK-677, people may experience gains in muscle size and strength, in addition to a decrease in body fat. This SARM is a great choice for any bodybuilder.
Advantages:
Increasing muscular development and power
ascending stamina
reducing body fat
accelerating healing
Research has proven that taking MK-677 can dramatically increase muscle size without an increase in fat. This remarkable characteristic has made it a preferred performance-enhancing supplement. Also referred to as Ibutamoren and Nutrobal, MK-677 offers numerous wellness benefits, such as the development of durable muscle mass, improved restfulness, better skin and hair health, and faster muscle tissue healing. Moreover, it can increase circulation to the body's organs and tissues.
MK-677 has been shown to boost the amount of insulin-like growth factor 1 (IGF-1) and growth hormone, enabling you to cultivate your muscles to a point of unrivaled excellence.
Swiss Pharmaceuticals MK-677 provides a host of benefits that can benefit your whole lifestyle. Not only can it help to improve bone density and prevent fractures and injuries, but it increases energy levels, boosts lean muscle mass, enhances your memory, and increases wakefulness and concentration. Furthermore, it may even help to increase your amorous connection! There is not another supplement on the market that can provide such benefits like Swiss Pharmaceuticals MK-677, so look no further and put your trust in us!
COMPOSITION
Serving Size: 1 Capsule
Servings Per Container: 45
| | |
| --- | --- |
| Amount Per Serving | |
| Ibutamoren (MK-677) | 25mg |
Other ingredients: gelatine, magnesium stereate
DIRECTIONS OF USE
RECOMMENDED DOSAGE: Take 1 capsule with 250ml water daily. Take a maximum of 2 capsules a day. Higher dosage for advanced users should be consulted with your doctor or specialist. Swiss Pharmaceuticals is not responsible for health problems caused by incorrect dosing.