SARMS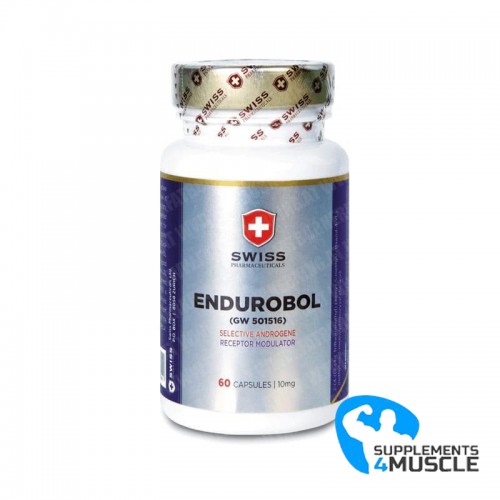 
Swiss Pharmaceuticals Endurobol GW-501516 60 caps
Burns fat
Has strong anti-catabolic
Strong anabolic effects
DESCRIPTION
COMPOSITION
DIRECTIONS OF USE
REVIEWS
DESCRIPTION
Swiss Pharmaceuticals Endurobol GW-501516
GW 501516, better known as Cardarine, was found in 1992 by Glaxo Smith Kline and Ligant Pharmaceuticals. When bonded to its PPR receptor, Cardarine activates PGC-1α with a related catalyst that then increases the amount of genes concerning energy expenditure.
Swiss Pharmaceuticals Endurobol GW-501516 60 caps are one of the best fat-burning supplements on the market. Also known as Cardarine, Endurobol reduces inflammation and helps you grow lean muscles quickly and safely. One of the best things about Endurobol is that it is completely safe on the body and doesn't even require post-cycle therapy. It also keeps the liver and kidney protected against any kind of damage while boosting cardiovascular health. Endurobol is also a wonderful choice for both men and women and can be made a part of cutting, bulking, and recomposition cycles.
Cardarine is the perfect product for any activity. One of its primary advantages is its capacity to increase stamina. This means that a person can have the energy to finish even the most challenging workouts and, furthermore, it can make it easier to lose weight. It is well known for its effectiveness in burning fat, meaning that muscles become clearly defined. Additionally, it has three very important features that are important for bodybuilding:
Lose weight quickly by purchasing Swiss Pharmaceuticals Endurobol GW-501516 60 caps. This product will burn fat quickly due to its strong anti-catabolic and anabolic effects. Buy now!
COMPOSITION
Serving Size: 1 Capsule
Servings Per Container: 60
| | |
| --- | --- |
| Amount Per Serving | |
| Endurobol GW-501516 | 10mg |
Other ingredients: gelatine, magnesium stereate
DIRECTIONS OF USE
RECOMMENDED DOSAGE: Take 1 capsule with 250ml water daily. Take a maximum of 2 capsules a day. Higher dosage for advanced users should be consulted with your doctor or specialist. Swiss Pharmaceuticals is not responsible for health problems caused by incorrect dosing.
REVIEWS
There is no review
Atsiliepimas Atsiliepimas