All products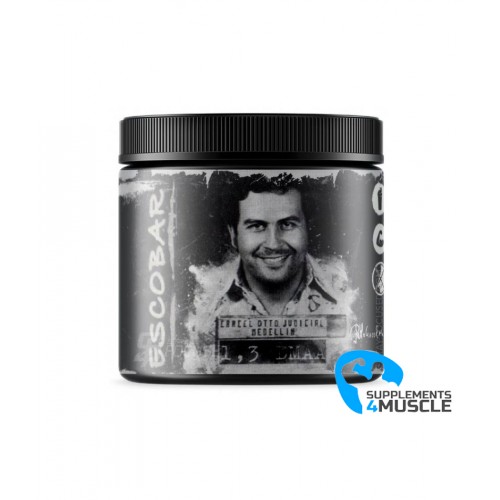 
DESCRIPTION
COMPOSITION
DIRECTIONS OF USE
REVIEWS
DESCRIPTION
Escobar 1.3 Pre-Workout Booster is an incredibly strong supplement, perfect for weight lifters. It helps to give you a heightened sense of concentration and enthusiasm, as well as an enduring energy level and improved muscle pumps. This particular product is made up of 3 grams of citrulline malate and 3 grams of beta-alanine, making it a great choice for heavyweight leg workouts and full body exercises.
The body has the ability to generate its own form of the amino acid, L-citrulline, which can be found in some foods. When converted into L-arginine and nitric oxide, it helps in making certain proteins, as well as widening blood vessels and decreasing blood pressure by boosting circulation.
Beta-alanine is an amino acid that is typically ingested orally to boost athletic performance and build muscle in young people, along with improving physical abilities in the elderly. After being taken, it is transformed into various compounds inside the body that can impact muscle tissue. Tyrosine is another amino acid, which are the pieces that make up proteins. Furthermore, it is utilized to create particular chemical compounds in the brain that are tied to numerous mental conditions, such as wakefulness.
Geranium (DMAA) is a very powerful stimulant that can give an immense surge in energy, increase strength and focus, and promote motivation for physical activity. Furthermore, it helps in slimming and intensifies exercise. When taken along with caffeine and other stimulants, it can create a rise in thermogenesis. It also works to indirectly increase the secretion of adrenaline and directly activate the adrenergic receptors. On top of that, Geranium boosts the release of dopamine, keeping the user in an optimistic and concentrated state when exercising.
Escobar 1.3 has included a select few elements that have been highly concentrated. You can be certain that it will provide you with the desired results of a potent enhancer, like enhanced concentration and the courage to lift heavier weights. It also contains elements that can raise blood circulation and nutrient delivery to the muscles, plus 250 mg of caffeine per serving, so you could feel the consequences of caffeine.
COMPOSITION
Serving Size: 1 scoop (10 grams)
Servings Per Container: 25
| | |
| --- | --- |
| Active ingridients | 10 g                    % DV |
| Citrulline Malate  | 3000 mg              ** |
| Beta Alanine  | 3000 mg              ** |
| L-Tyrosine | 1000 mg              ** |
| Taurine | 1000 mg              ** |
| Niacin | 250 mg               1250% |
| Bacopa monnieri extract | 250 mg                ** |
| Coffeine | 250 mg                ** |
| 1,3 Dimethylamylamine (DMAA) | 100 mg                ** |
| Piperine (95%) | 10 mg                  ** |
**DV - Daily Value not Established
DIRECTIONS OF USE
Dosage: Stick to the recommended amount. Mix one scoop with 100-200 milliliters of water, and take it 20-30 minutes before physical activity. Do not exceed one serving in a 24-hour period. This supplement is designed for experienced athletes; not recommended for newbies.
Keep this away from kids. Not intended for pregnant women, kids, or those with diabetes. 
REVIEWS
There is no review
Atsiliepimas Atsiliepimas