FAT BURNERS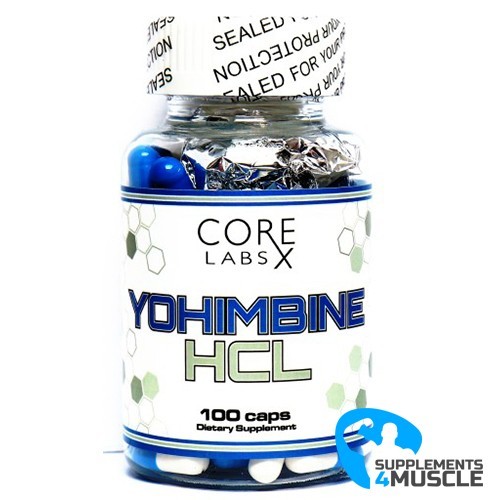 
Core Labs X Yohimbine HCL
Supports Fat Loss
Promotes Appetite Control
Maximizes Sex Drive
Increases Endurance
DESCRIPTION
COMPOSITION
DIRECTIONS OF USE
REVIEWS
DESCRIPTION
Core Labs X Yohimbine HCL (Yohimbine hydrochloride) is a pharmaceutical form of the alkaloid of yohimbine. In nature, yohimbine is a compound of plant origin obtained from a tree that grows in Africa called Johimba lekarska (Pausinystalia yohimbe). Yohimbine HCL is the cleanest, the most powerful and the longest-acting form of yohimbine available in the world, cleared of unwanted alkaloids.
Yohimbine HCL raises the level of norepinephrine - a key neurotransmitter activating many processes in the body - it mobilizes the body and mind. Higher levels of noradrenaline increase physical and mental energy, stimulate action, improve the crispness and clarity of the mind.
Yohimbine HCL intensifies thermogenesis and activates the lipolysis process - it accelerates the release and burning of fat from fat tissue and releases glucose from the muscles - thus faster than before you reduce your body fat, even from the most resistant places such as buttocks, thighs and stomach. What's more, yohimbine HCL raises testosterone levels, which will increase your pure muscle mass and strength.
Yohimbine HCL also acts as an aphrodisiac - it improves sexual function and increases libido. What's more, yohimbine HCL lengthens sexual sensations, because it acts anesthetically on the genital nerve endings so that your relationships will be longer and more pleasant, and the number of close ups is greater.
Yohimbine HCL also works well in people with rheumatoid arthritis - reduces inflammation and pain, which improves the overall comfort of life and physical fitness.
COMPOSITION
Serving Size: 1 Capsule
Servings per Container: 100
| | |
| --- | --- |
| Amount Per Serving | |
| Yohimbine HCL | 5mg |
Other Ingredients: Magnesium Stearate, Silicon Dioxide, Magnesium Carbonate, Calcium Gluconate.
DIRECTIONS OF USE
As a dietary supplement, take 1 capsule per day. Depending on your body composition and weight you may increase serving size to 2 capsules. DO NOT EXCEED 2 capsules in a 24 hour period.