SARMS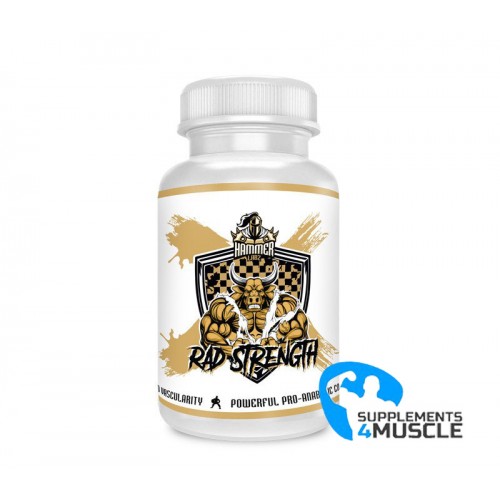 
Hammer Labz Rad Strength 60caps
Increased mass & strengh
High anabolic activity
Muscle tissue selective
Preventative muscle atrophy
DESCRIPTION
COMPOSITION
DIRECTIONS OF USE
REVIEWS
DESCRIPTION
Hammer Labz Rad Strength 60caps
Hammer Labz is a new manufacturer of dietary supplements from the USA. The wide product range includes supplements with strong, active ingredients intended for advanced athletes. Effective operation and strong formulas, as well as testing and analysis of each batch of products by independent laboratories ensure the highest care for the consumer. High-quality products in clinical doses ensure the best sports results. Innovative recipes created by Hammer Labz have a chance to become the leading pre-workout supplements, muscle building preparations, prohormones and fat burners.
Rad Strength has similar effects to Testosterone, however it will not adversely affect the body like AAS. For this reason, it can be used as a healthy alternative, having shown a similar effect on muscle development such as using high doses of Testosterone. In addition, this preparation has a beneficial effect on the regeneration of the body.
Rad Strength will increase lean muscle mass, strength, improving physical endurance and recovery very quickly. SARMS are a class of supplements that exert significant effects in a short period of time, famous because of their more targeted action on muscle tissue and very reduced side effects. With Rad Strength you get all the effects of muscle building without the androgenic side effects such as baldness or greater aggression. If you want a guaranteed increase both in mass and in strength, Rad Strength is a very promising and powerful option. Also noteworthy is the beneficial psychophysical effect of Rad Strength , an effect not common to other SARMs.
COMPOSITION
Serving Size: 1 Capsule
Servings Per Container: 60
| | |
| --- | --- |
| Amount Per Serving | |
| Rad-140 | 10mg |
DIRECTIONS OF USE
Dosage:
As an adult dietary supplement take 1 capsule one to 2 times daily with meals. Do not exceed 2 capsules in 24 hour period. Take Rad Strength for up to eight weeks maximum.