SARMS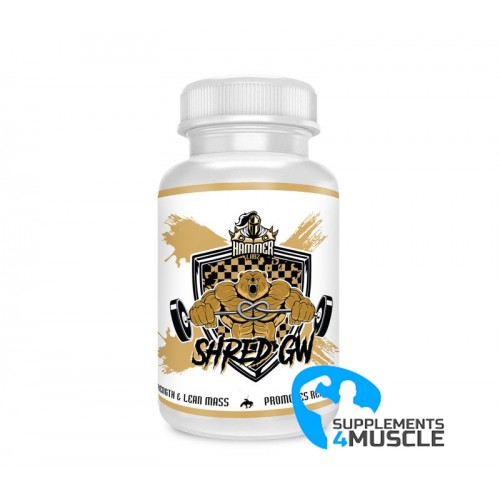 
Hammer Labz Shred GW 60 caps
Burns fat
Has strong anti-catabolic
Strong anabolic effects
DESCRIPTION
COMPOSITION
DIRECTIONS OF USE
REVIEWS
DESCRIPTION
Hammer Labz Shred GW 60caps
GW 501516, more commonly known as Cardarine, was first developed by Glaxo Smith Kline and Ligant Pharmaceuticals in 1992. When it binds to the PPR receptor, Cardarine has the ability to activate PGC-1α and trigger an enzyme that boosts the genes of energy expenditure.
Hammer Labz Shred GW, otherwise known as Cardarine or Endurobol, is an excellent option when you are looking to shed fat and build lean muscle safely. It doesn't require the use of post-cycle therapy and will protect your liver and kidneys while enhancing cardio health. This supplement is suitable for both male and female bodybuilders, and can be used when taking part in cutting, bulking, and recomposition cycles.
Cardarine is a great choice for an individual looking for an all-inclusive fitness and health supplement. It has the ability to increase stamina, providing more energy and strength for arduous exercise routines. In addition, Cardarine can help you reach your weight loss goals since it has been found to contribute to the reduction of fat. Consequently, one's muscles would become defined and well-defined.
Cardarine possesses characteristics that are necessary and highly beneficial for bodybuilders:
1. Anabolic activity: This property is essential for building muscle mass, strength and power. It helps to increase the production of anabolic hormones that promote muscle growth.
2. Anti-catabolic activity: This property helps to protect the muscles from being broken down, which is especially important during periods of intense training.
3. High energy levels: Cardarine helps to increase energy levels, which is essential for workouts and weight training sessions. This can also help to improve endurance and stamina.
4. Burns fat: Cardarine helps to increase the body's metabolism, which can help to burn fat and reduce body fat percentage.
Order Hammer Labz Shred GW now!
COMPOSITION
Serving Size: 1 Capsule
Servings Per Container: 60
| | |
| --- | --- |
| Amount Per Serving | |
| GW501516 | 15mg |
DIRECTIONS OF USE
Dosage:
As an adult dietary supplement take 1 capsule one to 2 times daily with meals. Do not exceed 2 capsules in 24 hour period. Take Shred GW for up to eight weeks maximum.
REVIEWS
There is no review
Atsiliepimas Atsiliepimas