SARMS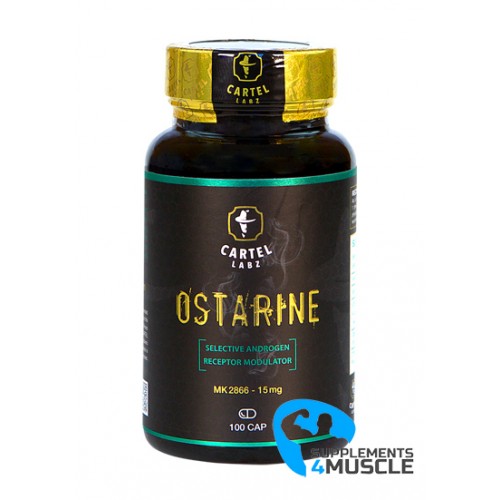 
DESCRIPTION
COMPOSITION
DIRECTIONS OF USE
REVIEWS
DESCRIPTION
Cartel Labz MK 2866 Ostarine 100caps
Cartel Labz's MK 2866 Ostarine has turned out to be one of the most beloved SARMs by bodybuilders. This product works by attaching itself to androgen receptors promoting muscle expansion as well as reduction of fat. Cartel Labz provides a superior quality product containing 15mg of MK 2866 Ostarine per capsule/dose. It is consumed orally and does not need to be injected.
When using Cartel Labz's MK 2866 Ostarine 100caps, the initial reward is an improvement in one's stamina and energy. Individuals who exercise hard are able to go longer without becoming exhausted.
In the long run, MK 2866 Ostarine can help keep lean muscle mass. This makes it a great choice for bulking as well as for cutting if you want to maintain your lean muscle. The advantages of using Ostarine are:
It safeguards muscle tissue, increases bone strength, protects you while exercising, keeps lean muscle mass, increases force, raises endurance, has no steroid connections, can be taken by mouth, and is acceptable in all European nations.
COMPOSITION
Serving Size: 1 Capsule
Servings Per Container: 100
Amount Per Serving

OSTARINE (MK-2866)

(2S) -3- (4-Cyanophenoxy) -N- [4-cyano-3- (trifluormethyl) phenyl] -2-hydroxy-2-methylpropanamid:

15mg
Other ingredients: Organic Rice, Rice Flour, Gelatin (Bovine), Magnesium Stearate.
DIRECTIONS OF USE
Recommended dosage:
As a dietary supplement use 1 capsule 1 time daily. Higher doses consult with physician or specialist. NEVER exceed the recommended dosage.
WARNING:
For adults only, not recommended for persons under 18 years of age. Do not use this product if you have any health problems. Always consult a doctor before using the product. CARTEL LABZ, Inc. is not responsible for health problems caused by incorrect dosing. The sale of materials is intended only for laboratory and research purposes. KEEP OUT OF REACH OF CHILDREN.
REVIEWS
There is no review
Atsiliepimas Atsiliepimas