SARMS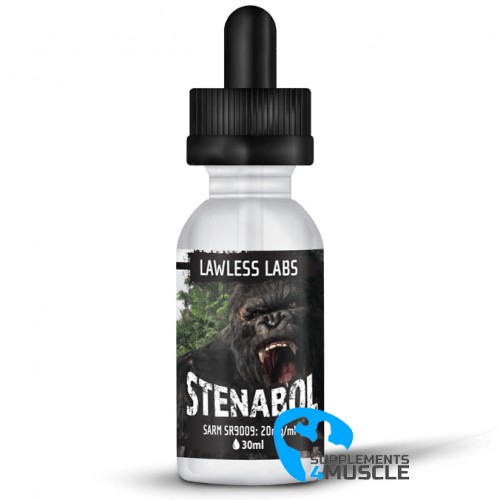 
Lawless Labs Stenabol SR9009 30ml
Supports fat burning,
Significantly increases muscle endurance,
Reduces inflammation,
Improves lipid levels,
Reduces the rise in blood sugar,
Stimulates,
Regulates circadian rhythms,
Bone strengthening.
DESCRIPTION
COMPOSITION
DIRECTIONS OF USE
REVIEWS
DESCRIPTION
Lawless Labs Stenabol SR9009 30ml
Stenabol SR9009 Liquid from Lawless Labs is a great way to obtain SARM. It comes in 20 mg drops which are housed in a 30 ml bottle. This SARM can effectively increase muscle stamina.
Lawless Labs Stenabol SR9009 Liquid has multiple advantages that are comparable to that of regular physical activity. This is a great addition to any weight reduction program. It increases the efficiency of weight loss, improves fat burning, and boosts mental wellbeing which all leads to improved training results.
Consequences of utilizing Lawless Labs Stenabol SR9009 Liquid:
This supplement helps burn fat, improves muscular stamina, lowers inflammation, stabilizes fat levels, controls blood sugar levels, energizes, keeps our body clocks on track, and promotes stronger bones.
Lawless Labs Stenabol SR9009 Liquid is usually taken during a weight loss regimen to quicken fat loss and boost the body's capabilities. With a decrease in weight, the body can become drained, ill and lacking in energy. SR-9009 has strong impacts on improving blood markers and lipid levels, all of which can be beneficial. Reducing calorie intake can impair proper restorative sleep, making the use of SARM SR-9009 a useful solution. As well as this, the product helps to manage circadian rhythms, which can lead to a better quality sleep and give energy throughout the day to aid in recovery.
What should be taken alongside SR-9009?
Stenobolic, a SARM, is ideal for increasing stamina and making fat-loss more effective. Combining it with Ostarine and Cardarine will strengthen its capacity to improve endurance and burn fat. Additionally, for anyone wanting to maximize its health-supporting characteristics, including SR-9009 in unison with any other active compound could prove immensely beneficial.
COMPOSITION
Serving Size: 1ml
Servings Per Container: 30
| | |
| --- | --- |
| Amount Per Serving | 1ml |
| Stenabol SR9009 | 20mg |
Other ingredients: PEG300
DIRECTIONS OF USE
Dosage: SR-9009 has a short half-life, so take 0.5 ml in the morning and 0.5 ml in the second half of the day.
REVIEWS
There is no review
Atsiliepimas Atsiliepimas