SARMS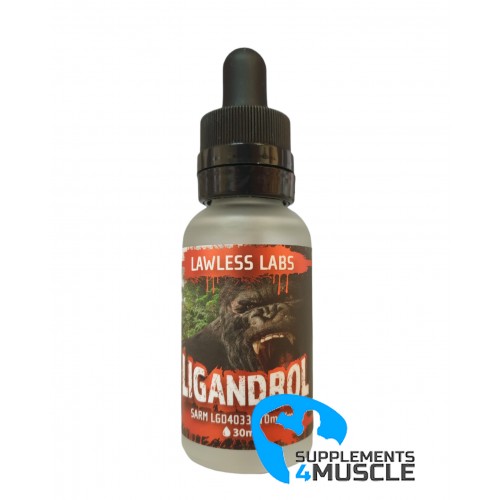 
Lawless Labs Ligandrol LGD-4033 30ml
Muscle growth
Improving of muscular hardness
Body fat loss
Healing properties
It does not cause undesirable side effects
DESCRIPTION
COMPOSITION
DIRECTIONS OF USE
REVIEWS
DESCRIPTION
Lawless Labs Ligandrol (LGD-4033) 30ml
Ligandrol, also known as LGD-4033, is a particular type of selective androgen receptor modulator (SARM). This substance was designed to handle muscle deterioration connected with old age, osteoporosis, muscular dystrophy and malignancy.
It is quite favored among many types of athletes and individuals that prioritize their muscle size and overall body, such as weight lifters, bodybuilders, models, crossfit practitioners, sportspeople, and strongmen.
Recently, a lot of attention has been given to LGD. Despite the fact that it's not a steroid, it has been covered in the news recently due to some athletes getting in trouble for using illegitimate performance enhancing substances. Lots of bodybuilders are currently on the search for SARMs to help them progress.
LGD-4033 is a highly potent SARM that can help you reach your full potential. It is an orally administered nonsteroidal SARM that binds to the androgen receptor, providing effects similar to anabolic steroids. It is the most powerful when it comes to the gains in size that can be obtained.
This product is specifically designed to treat both acute and chronic conditions related to age or cancer-related muscle mass loss. It offers a safe alternative to testosterone as it is more selective.
LGD-4033 has been proven to increase bone and muscle mass without causing any negative responses in the prostate or sebaceous glands, which can be an issue with steroids.
Benefits:
The benefits of a certain activity include increased muscle mass, improved muscular firmness, decreased body fat, beneficial healing qualities, and no adverse reactions.
Lawless Labs' LGD-4033 is a potent SARM that can take your exercise routine to the next level. Considered one of the strongest SARMs available, LGD-4033 accelerates the muscle recovery process and helps develop muscle size, definition, and mass. Not only does it promote fat loss, but also enhances one's endurance. With Lawless Labs LGD-4033, you can be sure of building a physique that has great definition and muscularity, and be ready to take on the gym like a powerhouse.
COMPOSITION
Serving Size: 1ml
Servings Per Container: 30
| | |
| --- | --- |
| Amount Per Serving | 1ml |
| Ligandrol LGD-4033 | 10mg |
Other ingredients: PEG300
DIRECTIONS OF USE
Dosage: 10mg daily (1ml - 1serving).
Cycle length: 4-12 weeks
REVIEWS
There is no review
Atsiliepimas Atsiliepimas