SARMS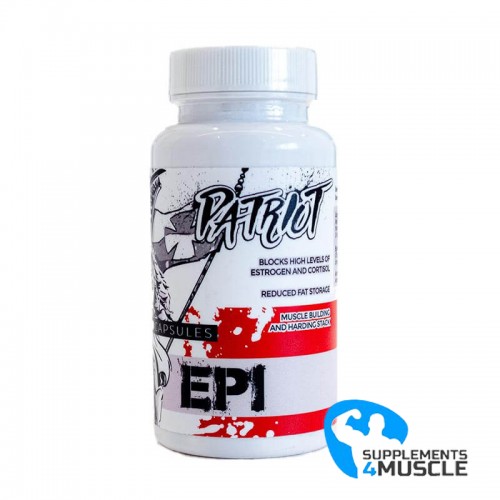 
Underground Lab Patriot EPI 60caps
Ligandrol, Arimistane and Epicatechin in one SARM stack for ultimate muscle building
Blocks high levels of estrogen and cortisol
Reduces fat storage
Muscle building and harding stack
DESCRIPTION
COMPOSITION
DIRECTIONS OF USE
REVIEWS
DESCRIPTION
Patriot EPI SARM Stack
The Patriot Labs SARM Stack with Patriot EPI features three powerful ingredients: Ligandrol, Arimistane and Epicatechin. This uniquely powerful combination of SARMs is ideal for creating strong, solid and lean muscle without unwanted water retention. Patriot Labs is a well-known name in the sporting world for their high-quality supplements and hardcore products with top-notch doses.
Lingandrol from SARM increases testosterone levels, thus allowing for faster muscle growth. Epicatechin serves as a myostatin inhibitor which helps to build up quality muscle mass. Arimistane, on the other hand, permits for a lower amount of estrogen and cortisol, positively affecting muscle construction and fat loss. All of the active ingredients in this combination of SARMs also help to generate more strength, endurance, and energy. Therefore, users are able to push from tougher, longer workouts and to have a quicker recovery after their workout.
The Patriot EPI SARM Stack contains highly beneficial components to help with muscle building, fat burning, and increased energy and endurance. It is made up of Ligandrol, Arimistane, and Epicatechin, and can provide phenomenal muscle mass gains, improved ability to reduce stubborn fat, max power and strength, and enhanced recovery time between sets and after working out.
COMPOSITION
Serving Size: 1 capsule
Servings in bottle: 60
1 capsule
Ligandrol
6mg
Epicatechin
25mg
Arimistane
25mg
DIRECTIONS OF USE
The manufacturer recommends:
1 capsule up to two times a day
REVIEWS
There is no review
Atsiliepimas Atsiliepimas