SARMS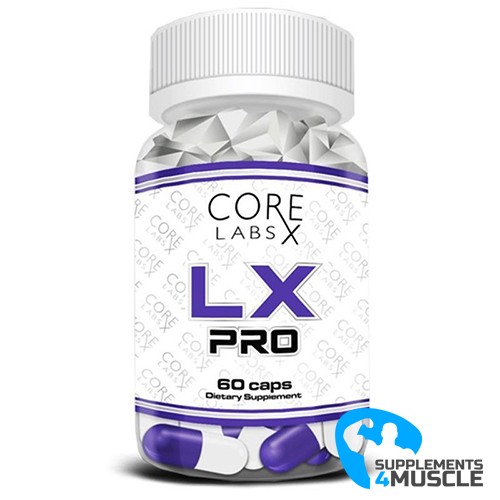 
DESCRIPTION
COMPOSITION
DIRECTIONS OF USE
REVIEWS
DESCRIPTION
Core Labs X LX Pro 60 caps
Core Labs X LX Pro 60 caps include a proprietary preparation that promotes significant muscular growth, strength, and cardiovascular endurance increases. Do you want to develop muscle mass while still losing body fat? You will never be dissatisfied if you buy Core Labs X LX Pro 60 caps.
Why should you buy Core Labs X LX Pro 60 caps?
Aids in the development of lean muscle mass and size
Encourages quick muscle recovery after rigorous training sessions.
Improves libido and overall well-being
Increases muscle mass and improves post-workout recovery.
Ensures optimal nutrition
Every dosage contains wholesome nutrients.
One of the most popular and well-known bodybuilding supplements in the world.
Provides the necessary stamina and strength to cope with strenuous exercises.
Improves muscle protein synthesis
Core Labs X LX Pro is what bodybuilders, fitness enthusiasts, and athletes count on when it comes to stimulating significant muscle mass, cardiovascular endurance, and body strength gains. With wholesome nutrients in every single dose, Core Labs X LX Pro promotes tissue recovery and quicker recuperation so that you don't have to ever lose out on workout sessions. Enriched with ingredients such as 5a-Hydroxy Laxogenin, NAC (N-acetyl L-cysteine), Stinging Nettle Extract, and Vitamin E TPGS, Core Las X LX Pro builds antioxidants to repair and protect cells from damage. Core Labs X LX Pro also increases the count of free (active) testosterone in the body by binding e testosterone inhibitor sex hormone-binding globulin (SHBG). It also helps in preventing bloating, water retention, and stimulates the growth of new hair while inhibiting scalp damage. Don't settle for anything less, buy Core Labs X LX Pro now to see the difference by yourself.
Conquer all athletic and gym challenges now. What are you waiting for? Place the order now! Purchase Core Labs X LX Pro 60 caps and get ready for a ripped physique.
COMPOSITION
Serving Size: 1 Capsule
Servings per Container: 60
| | |
| --- | --- |
| | Amount Per Serving |
| NAC (N-acetyl L-cysteine) | 500 mg |
| Stinging Nettle Extract (3,4-divanillyltetrahydrofuran 95%) | 100 mg |
| Rosemary Leaf Extract (Standarized to 40% Carnosic acid, 25% Ursolic acid, 20% Rosmarinic acid) | 100 mg |
| 5a-Hydroxy Laxogenin | 50 mg |
| (25)-3-(4-cyanophenoxy)-N-[4-cyano-3-(trifluoromethyl)phenyl]-2-hydroxy-2-methylpropanamide (MK-2866) | 12.5 mg |
| Vitamin E TPGS | 10 mg |
DIRECTIONS OF USE
Take 2 capsules daily for optimal results. Do not exceed 3 capsules in a 24 hour period. Do not use for more than 12 weeks without a 4 week break between cycles.
REVIEWS
There is no review
Atsiliepimas Atsiliepimas