SARMS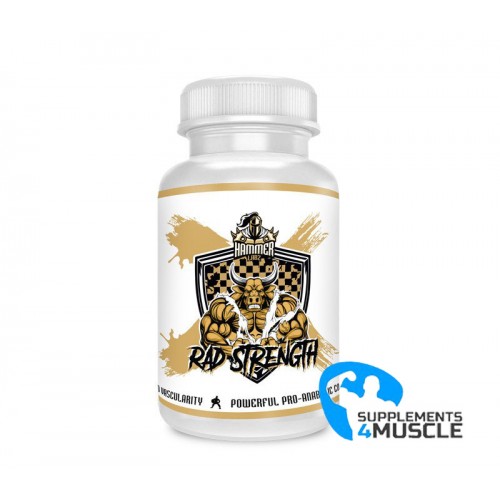 
Hammer Labz Rad Strength 60caps
Increased mass & strengh
High anabolic activity
Muscle tissue selective
Preventative muscle atrophy
DESCRIPTION
COMPOSITION
DIRECTIONS OF USE
REVIEWS
DESCRIPTION
Hammer Labz Rad Strength 60caps
Hammer Labz is a USA-based provider of dietary supplements that seeks to serve advanced athletes with strong, active ingredients. Dedicated to maintaining the highest customer-care standards, Hammer Labz has undergone extensive testing and analysis from independent labs to validate the efficiency of their products. Hammer Labz is aiming to create the top-grade sports products that are clinically dosed in order to guarantee the foremost outcomes. Its pioneering recipes may become the number one pre-exercise supplements, muscle build-up formulas, prohormones and fat burners.
Hammer Labz RAD Strength 60 caps are perfect for any fitness enthusiast aiming to make the jump from being a beginner to being an expert. This supplement helps to grow muscle mass, size and definition, while aiding muscles in bouncing back quickly from weariness or tenderness. Moreover, it also supports weight loss while as well as enhancing bone density so you can become the best version of yourself. Furthermore, Hammer Labz RAD Strength helps to extend, amp up the intensity and better the performance of your amorous encounters by augmenting the testosterone and sex drive levels.
Rad Strength exhibits influences comparable to that of Testosterone, yet it does not have the deleterious consequences on the body like anabolic-androgenic steroids. As such, it is a better option for those wishing to build muscle mass, as it provides the same effects that Testosterone may bring at high doses without the hazards to one's health. Moreover, this supplement is considered to be useful in restoring the body's condition.
Rad Strength has the potential to significantly amplify your lean muscle mass, strength, and physical endurance in a brief time period. Not only that but the SARMs it contains cause very few side effects and none of the androgenic ones, like going bald or increased aggression. If you're looking to increase your mass and strength with certainty, then Rad Strength just may be the perfect and powerful choice you're searching for. Besides that, Rad Strength also creates a positive psychophysical effect that sets it apart from other SARMs.
Take your health and performance to the next level by trying Hammer Labz RAD Strength 60 caps. Gain greater strength and stamina in the gym and know that you can satisfy your partner for longer. Act now and get your order today!
COMPOSITION
Serving Size: 1 Capsule
Servings Per Container: 60
| | |
| --- | --- |
| Amount Per Serving | |
| Rad-140 | 10mg |
DIRECTIONS OF USE
Dosage:
As an adult dietary supplement take 1 capsule one to 2 times daily with meals. Do not exceed 2 capsules in 24 hour period. Take Rad Strength for up to eight weeks maximum.