SARMS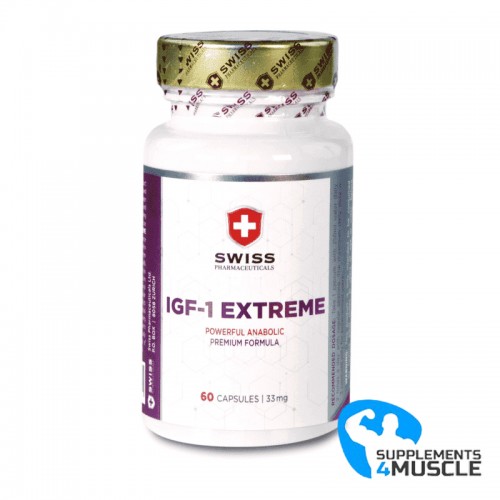 
Swiss Pharmaceuticals IGF-1 EXTREME 60caps
This potent anabolic muscle building peptide is IGF-1 in its purest form - an innovative supplement for more muscle, strength and increased fat loss.
DESCRIPTION
COMPOSITION
DIRECTIONS OF USE
REVIEWS
DESCRIPTION
Swiss Pharmaceuticals IGF-1 EXTREME 60caps
Swiss Pharmaceuticals offers a supplement known as IGF-1 EXTREME that consists of pure IGF-1. Unlike insulin, this can be ingested through a pill rather than needing an injection. IGF-1 is a hormone similar to insulin which works with growth hormone to create and regenerate cells.
A hormone secreted by the pituitary gland triggers the liver to produce IGF-1, which stimulates the growth of cells throughout the body. This progression then leads to physical development, the strengthening of body tissue (including the increase of bone density and muscle mass) and the ability for healing (such as in the skin and bones) depending on what the body requires.
IGF-1 Extreme from Swiss Pharmaceuticals is an innovative anabolic supplement that assists in growing muscle mass, enhancing the amount of cells in the body's muscle tissue, increasing the density and size of the muscles, and amplifying the effects of training.
The primary benefits of using Swiss Pharmaceuticals IGF-1 EXTREME are:
It helps you construct lean muscle tissue with no fat, quickens recovery, increases muscle definition, grants you more power, boosts protein creation, results in decreased fat amounts, ups your endurance, arouses libido, accelerates mending of damaged nerves and cells, and slows down aging.
COMPOSITION
Serving Size: 2 Capsules
Servings Per Container: 30
| | |
| --- | --- |
| Amount Per Serving | |
| IGF-1 Insulin Growth Factor – 1 (from Nxp-GF) | 66mg |
Other ingredients: gelatine, magnesium stereate
DIRECTIONS OF USE
Dosage: 2 times daily 1 capsule with 250 ml water at regular intervals. The maximum daily dose is 3 capsules - only for experienced users.
Supplements are no substitute for a healthy diet. Consumption and use is at your own risk. Take this product only if you are healthy and over 18 years old. Consult a doctor before use and do not exceed the recommended daily intake. Please do not combine this product with alcohol, drugs or medicines. This product must not be allowed to get into the hands of children. Store in a cool and dry place after opening.
REVIEWS
There is no review
Atsiliepimas Atsiliepimas