SARMS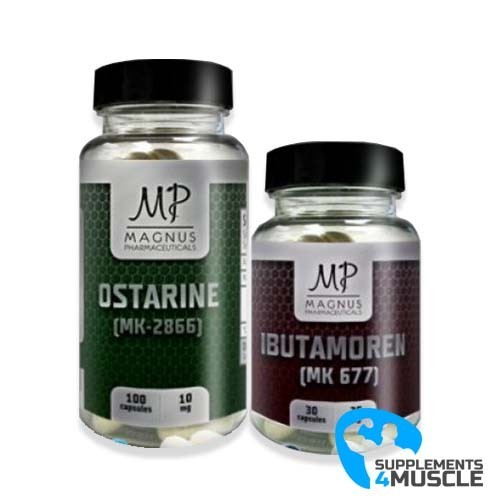 
DESCRIPTION
COMPOSITION
DIRECTIONS OF USE
REVIEWS
DESCRIPTION
Stack for healing: MK-2866+MK-677
Stack for healing: MK-2866+MK-677
Having aches and pains in your joints while doing weightlifting or engaging in other activities can be a real bummer. You may have already tried a few methods to reduce your pain, but nothing seems to be of help. Fortunately, two SARMs are becoming extremely popular for remedying joint issues.
You may wish to try taking both MK-2866 (Ostarine) and MK-677 (Ibutamoren) for your injury healing. Ostarine has earned accolades for its ability to quickly mend joint pains and other harm. There are numerous accounts of people being aided by ostarine to recover fast. However, MK-677 needs to be taken for multiple months to get the best results. All things considered, it is worth trying this combination to help in your healing.
Magnus Ostarine (MK-2866)
Owing to the healing capabilities of Magnus Pharmaceuticals' Ostarine MK-2866 SARM, studies have found it to be more effective in preventing damage to tendons, ligaments and bones than testosterone. Therefore, it has acquired a great number of fans among weightlifters and fitness fanatics who usually face injury during their training routine. It also appears to have beneficial qualities for those suffering from muscle wasting diseases, osteoporosis and several other health conditions.
Magnus Ibutamoren (MK 677)
Ibutamoren, more popularly known as MK-677, is the strongest and most potent growth hormone secretagogue available to be taken orally. It is one of the Selective Androgen Receptor Modulators, or SARMs. In basic terms, a secretagogue is a chemical which sends a signal to the pituitary gland which leads to secretion of growth hormone. When measured up to peptides like GHRP-6 or ipamorelin, MK677 does not need any injections, and has no adverse effects. Designed by Reverse Pharmacology, ibutamoren MK-677 had the purpose of lessening health problems like muscle loss, obesity, and osteoporosis, but also to help with therapy of senile hip fracture patients.
The advantages of using a product from Magnus Pharmaceuticals are:
In a study involving its impacts on catabolic states, a one-time daily dosage of 25mgs of Magnus Pharmaceuticals was provided to healthy young males exposed to short-term diet-caused nitrogen wastage. Following a week-long treatment with this Magnus Pharmaceuticals dosage, the individuals displayed a sustained rise in the serum concentration of IGF-1 and growth hormone, as well as the reversal of nitrogen wastage, indicating great potential to address issues entailing the loss of muscle mass.
You can verify if your Magnus Pharmaceuticals product is genuine by utilizing their online authenticity verification.
COMPOSITION
Magnus Ostarine (MK-2866)
Serving size: 1 capsule
Serving per comtainer: 100
Amount per serving
%DV
MK-2866


((2 S) -3- (4-cyanophenoxy) -N- [4-cyano-3- (trifluoromethyl) phenyl] -2-hydroxy-2-methylpropanamide

)
10mg*
Other ingredients: Gelatin (capsules), Magnesium stearate.
Magnus Ibutamoren (MK 677)
Serving Size: 1 capsule
Serving Per Container: 30
Amount per serving

%DV

MK 677
(R) -1'-(2-methylalanyl-0-benzyl-0-seryl)-1-(methylsulfonyl)-1,2-dihydrospiro(indole-3,4'-piperidine)

25 mg*
Other ingredients: Gelatin (capsules), Magnesium stearate.
DIRECTIONS OF USE
Magnus Ostarine (MK-2866)
SUGGESTED USE: 20mg day dosed once a day in a.m.
Magnus Ibutamoren (MK 677)
SUGGESTED USE: 25mg day dosed once a day in p.m.
REVIEWS
There is no review
Atsiliepimas Atsiliepimas