SARMS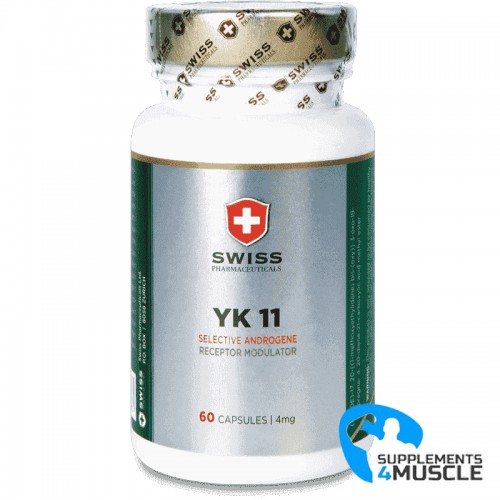 
Swiss Pharmaceuticals YK-11 60 caps
One of the strongest SARM on the market, which also acts as a myostatin blocker. For dry muscle mass without water retention.
DESCRIPTION
COMPOSITION
DIRECTIONS OF USE
REVIEWS
DESCRIPTION
Swiss Pharmaceuticals YK-11 60caps
Swiss Pharmaceuticals presenteert YK11, een selectieve androgeenreceptormodulator (SARM) die tot de sterkste en meest succesvolle behoort. Vergelijkbaar met anabole steroïden in termen van structuur en werking, biedt YK11 het grote voordeel dat het weinig of geen bijwerkingen heeft en het lichaam veel minder belast.
YK-11 is een zeer gunstige SARM omdat het fungeert als myostatine-blokker en tot de sterkste op de markt behoort. Door myostatine te blokkeren, verhoogt het drastisch de spiergroei. Hoe minder myostatine, hoe meer spiermassa kan worden bereikt. Met YK-11 kunt u magere spieren krijgen zonder vet of water vast te houden. Zelfs met het gebruik van YK-11 is intensieve training nodig om significante resultaten te zien. Het voordeel ten opzichte van testosteron is dat het veel sterkere effecten heeft, waardoor het steeds populairder is geworden onder sporters die hopen spieren te kweken.
Swiss Pharmaceuticals YK-11 60 capsules zijn een uitstekende keuze voor sporters, bodybuilders en fitnessfans die in korte tijd veel spiermassa en kracht willen opbouwen. Dit veilig te gebruiken spieropbouwende supplement schenkt voordelen aan botten, details spieren en libido. Deze supplementen verhogen de Follistatine cijfers en verminderen myostatine om spiergroei te stimuleren. Swiss Pharmaceuticals YK-11 60 capsules zijn ideaal voor bulking en slicing cycli en kunnen worden gecombineerd met Nutrobal, Cardarine, Ostarine en Stenabolic tijdens cycli van 10-16 weken. Bereid u voor om visceraal en buikvet snel en veilig te verbranden.
Tot nu toe is gemeld dat YK 11 van Swiss Pharmaceuticals weinig of geen negatieve bijwerkingen veroorzaakt, waardoor het bovendien een bijzonder veilige Selectieve Androgeen Receptor Modulator (SARM) is. Hoewel sommige gebruikers verhoogde niveaus van frustratie en woede kunnen ervaren, kan dit in sommige gevallen voordelig zijn tijdens trainingen. Van YK 11 is niet vastgesteld dat het hormonen zoals oestrogeen of testosteron aantast, en het is ook niet schadelijk voor de lever. Daarom is het nog steeds verstandig om Cycle Support te nemen tijdens het gebruik van YK 11.
Koop YK-11 60 capsules van Swiss Pharmaceuticals om zelf de geweldige voordelen te ervaren. YK-11 is absoluut een krachtige aanwinst op het gebied van SARM's.
COMPOSITION
Serving Size: 1 Capsule
Servings Per Container: 60
| | |
| --- | --- |
| Amount Per Serving | |
| YK-11 (17, 20E)-17, 20-[(1-methyoxyethylidene)bis-(oxy(]-3-oxo-19-norpregna-4, 20-diene-21-carboxylic acid methyl ester | 4mg |
Other ingredients: gelatine, magnesium stereate
DIRECTIONS OF USE
Dosage: 1-2 capsules per day for a maximum of 14 weeks. Always start with the lowest dose to test tolerance.
Supplements are no substitute for a healthy diet. Consumption and use is at your own risk. Take this product only if you are healthy and over 18 years old. Consult a doctor before use and do not exceed the recommended daily intake. Please do not combine this product with alcohol, drugs or medicines. This product must not be allowed to get into the hands of children. Store in a cool and dry place after opening.
REVIEWS
There is no review
Atsiliepimas Atsiliepimas