SARMS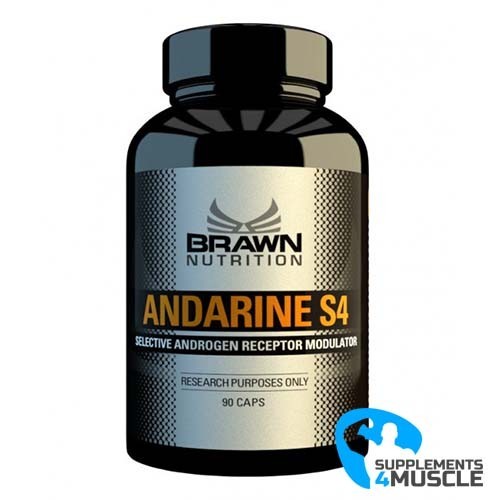 
Brawn Nutrition Andarine S4
May Increase Lean Muscle
May Decrease Body Fat
May Reduce Estrogen
May Increase Muscle Density
DESCRIPTION
COMPOSITION
DIRECTIONS OF USE
REVIEWS
DESCRIPTION
Brawn Nutrition Andarine S4

The effects of Brawn Nutrition's Andarine S4 are nearly identical to anabolic steroids Anavar and Winstrol, with the exception of increased lean muscle growth. Its attachment to the androgen receptor is similar to these steroids, creating similar fat-loss effects. Additionally, S4 may also reduce LPL (lipoprotein lipase), an enzyme responsible for lipid buildup.

Andarine may help you reduce fat while still building and even gaining muscle mass even if you are eating fewer calories. It can also help you get visible muscles with little to no extra water weight. In comparison to steroids, it won't harm your joints but will improve your muscular strength and power. Additionally, you do not have to worry about uncomfortable soreness.

Brawn Nutrition Andarine S4 is fast becoming one of the top fat-burners on the market. This selective androgen receptor modulator (SARM) helps you blast fat from your stomach and other areas of the body with little effort. Perfect for weight-loss stacks, Brawn Nutrition Andarine S4 bolsters your workouts so that you can easily gain muscle and slim down. This product is great for those who want to stay lean and increase athletic performance. It has impressive anabolic properties that help you achieve a "cut" physique within 2-4 months. Why not get Brawn Nutrition Andarine S4 now?
COMPOSITION
Serving Size: 1 Cap
Servings Per Container: 90
| | |
| --- | --- |
| Ingredients (per serving) | |
| (2S)-3-(4-acetamido-phenoxy)-2-hydroxy-2-methyl-N-(4-nitro-3-trifluoromethyl-phenyl)-propionamide | 25mg |
Other Ingredients: Rice flour, Gelatine (capsule).
DIRECTIONS OF USE
Directions: Take 2 caps (50mg) per day for a duration of 4-8 weeks. Take the product daily 5 days on and then 2 days off for the duration of the cycle.
REVIEWS
There is no review
Atsiliepimas Atsiliepimas