SARMS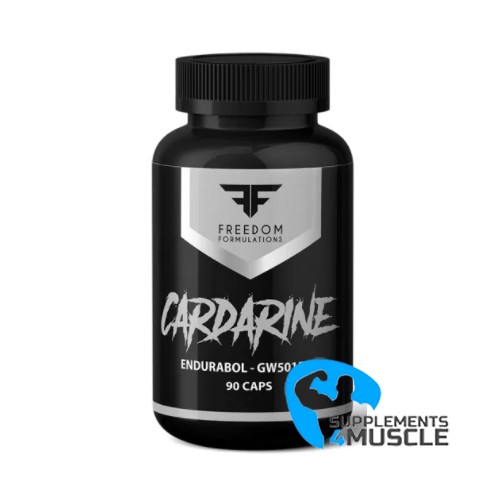 
Freedom Formulations Cardarine GW501516 90 caps
Increased endurance
Reduced recovery time
Improved muscle growth
Extreme fat burning
DESCRIPTION
COMPOSITION
DIRECTIONS OF USE
REVIEWS
DESCRIPTION
Freedom Formulations Cardarine GW501516 90caps
At the start of the research, it became apparent that Freedom Formulations GW-501516 may not only lower cholesterol levels but may also heighten fatty acid metabolism.
Cardarine produces similar impacts to exercise, which caused quick curiosity among athletes and bodybuilders.
In conclusion, Cardarine is a versatile medication and its effects can include increased muscles endurance, diminished fatigue, improved feeling of wellness, and increased quality of sleep.
GW 501516 is a molecule that works as a regulator of the breakdown of fatty acids and has been observed to raise endurance in muscles and increase the rate of fat burning.
Cardarine allows you to maintain energy while exercising, boosting the intensity of your workouts. Many athletes turn to this supplement to shed unwanted fat due to its potential to allow glucose to enter muscles, resulting in an athletic, toned look.
This compound prevents muscle breakdown, so no need to be concerned about losing muscle when taking it.
It is important to remember that taking supplements alone is not enough to slim down. You must also combine them with a healthy diet and exercise to get the best results. Taking a supplement will give you a huge boost in energy and stamina, and help you lose unwanted fat more effectively.
If you want to take your exercise routine to the next level, then try out Freedom Formulations GW-501516. It will quickly burn away all stored body fat to help you reach your physique goals, making it perfect for bodybuilders, fitness aficionados, and athletes. With its PPARδ properties, it enhances vascularity and nitric oxide Production, and also limits oxidative stress in the body while avoiding insulin resistance. Plus, it helps to bridge cycles of body mass, strength, and physique. Get yours now and start seeing the results.
COMPOSITION
Serving Size: 1 Capsule
Servings Per Container: 90
| | |
| --- | --- |
| Amount Per Serving | |
| GW501516 | 10mg |
Other ingredients: Gelatin, Silica, Rice Flour
DIRECTIONS OF USE
RECOMMENDED DOSAGE: Take 1 capsule with 250ml water daily. Take a maximum of 3 capsules a day. Higher dosage for advanced users should be consulted with your doctor or specialist.
REVIEWS
There is no review
Atsiliepimas Atsiliepimas