SARMS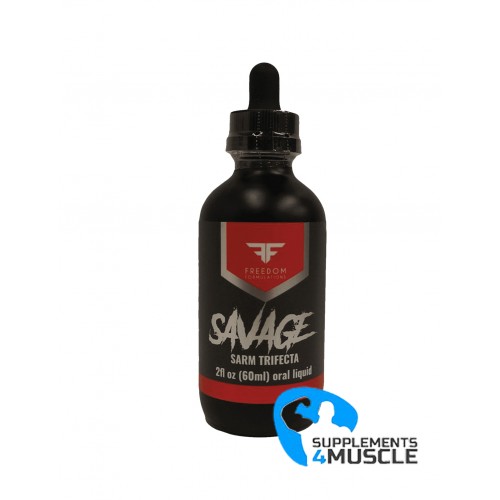 
DESCRIPTION
COMPOSITION
DIRECTIONS OF USE
REVIEWS
DESCRIPTION
Freedom Formulations Savage 60ml
We are thrilled to announce the importation of the USA-based Freedom Formulations brand. Their products are unrivalled when it comes to the publicly-shared certificates of their raw materials and the extraordinary formulae they carry, both in capsule and liquid containers. Every package is designed to make sure you get the best results, thanks to the perfect combination of elements and doses to provide you with unrivalled effectiveness.
Savage is a mixture of three of the most intense and muscle-building Sarms, which is available in liquid form. These Sarms are Ostarine, YK-11 and Ligandrol (LGD).
This researched mix offers notable increases in muscle mass and strength. Additionally, the blend lessens the biological function of myostatin, allowing for muscle growth beyond its usual boundary. Savage helps in growing healthy, strong muscles in a quick manner as well as providing assistance for sustaining the large increases. The potent liquid form that is simple to absorb makes it a go-to product.
This supplement has a powerful anabolic effect which makes it possible to gain muscle mass steadily and noticeably improve physical performance. Furthermore, Savage is known to enhance fat burning while still abiding by a bulk-oriented, high caloric diet. This supplement helps give muscles a more defined and toned look.
COMPOSITION
Serving Size: 1 Full Dropper (1ml)
Servings Per Container: 60
| | |
| --- | --- |
| | Amount Per Serving |
| Ostarine | 20mg |
| YK 11 | 7.5mg |
| LGD | 6mg |
Other Ingredients: Rice flower, gelatin, calcium silicate.
DIRECTIONS OF USE
Dosage: Take 1ml twice per day according to the desired effect, away from main meals, for a period of 4 to 12 weeks maximum.
At the conclusion of the PCT cycle necessary.
Liver health products such as NAC, Tudca or any Liver products on our website
REVIEWS
There is no review
Atsiliepimas Atsiliepimas