SARMS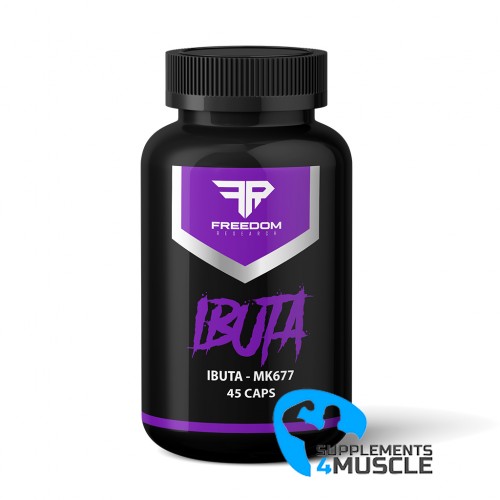 
Freedom Formulations Ibuta MK-677 45caps
Growth of muscle mass and strength
Endurance improvement
Fat reduction
Recovery acceleration
DESCRIPTION
COMPOSITION
DIRECTIONS OF USE
REVIEWS
DESCRIPTION
Freedom Formulations Ibuta MK-677 45caps
MK-677 is an example of a selective androgen receptor modulator that can be used to raise human growth hormone levels through the pituitary gland. It is often compared to exogenous growth hormone due to its effectiveness. This SARM product is ideal for bodybuilders, as it results in larger and better quality muscle, improved strength, and decreased body fat.
Benefits:
An increase in muscle size and strength, increased stamina, decreased body fat, and faster healing times.
Studies conducted by scientists have verified that people using MK-677 experienced an increase in muscle mass without incurring any growth in fat, which is an extraordinary advantage.
Ibuta MK-677 from Freedom Formulations is an excellent supplement for boosting your overall health. Taking this supplement can help build stronger muscles, improve sleep, and bring out the beauty of your hair and skin. Additionally, Ibuta MK-677 can quicken the process of muscle recovery and healing. Plus, it encourages increased circulation of blood to the body's organs and tissues.
MK-677 increases IGF-1 and growth hormone levels, helping you build muscle like a champion seeking only the best outcomes.
Experience all the positive benefits that Freedom Formulations Ibuta MK-677 can offer with its ability to increase bone density, prevent fractures and injuries, boost energy as well as increase strength, wakefulness, and memory, and improve your romantic life. Trust in this unparalleled product - there is nothing better than Freedom Formulations Ibuta MK-677!
COMPOSITION
Serving Size: 1 Capsule
Servings Per Container: 45
| | |
| --- | --- |
| Amount Per Serving | |
| Ibutamoren (MK-677) | 25mg |
Other ingredients: Gelatin, Silica, Rice Flour
DIRECTIONS OF USE
RECOMMENDED DOSAGE: Take 1 capsule with 250ml water daily. Take a maximum of 2 capsules a day. Higher dosage for advanced users should be consulted with your doctor or specialist.
REVIEWS
There is no review
Atsiliepimas Atsiliepimas