SARMS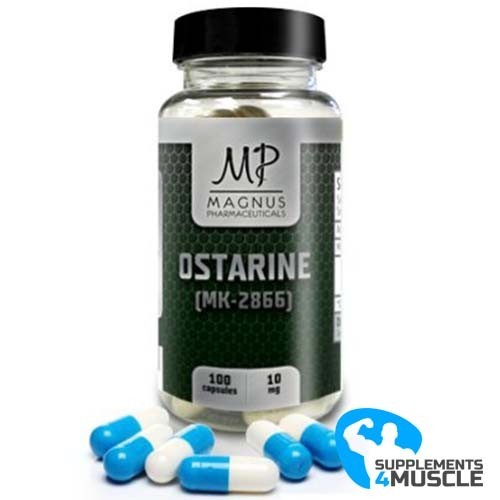 
Magnus Ostarine (MK-2866)
Increase strenght
Fat Loss
Great replacement of steroids without the side effects.
DESCRIPTION
COMPOSITION
DIRECTIONS OF USE
REVIEWS
DESCRIPTION
Magnus Ostarine (MK-2866)
MK-2866, also known as Ostarine, is a SARMs (selective androgen receptor module) developed by GTx for the prevention and treatment of muscle wasting. This particular type of SARM can not only protect lean body mass but also increase it, which makes it useful for fighting conditions such as atrophy, cachexia, sarcopenia, and Hormone or Testosterone Replacement Therapy. Ostarine is sometimes confused with S1 S1, although it was developed before and does not continue to expand. What is the mechanism behind Ostarine MK-2866 SARM Magnus Pharmaceuticals?
Ostarine MK-2866 from Magnus Pharmaceuticals binds to receptors in the muscle tissue and stimulates gains in muscle mass, similar to a steroid but without any of the side effects. When you finish taking the medication, you'll be able to retain your progress as long as you continue to eat right and exercise.
Ostarine MK-2866 SARM Magnus Pharmaceuticals is capable of aiding in the process of nutrient partitioning, which has given many people the ability to do the so-called 'impossible', burning fat while concurrently building muscle mass. Even though Ostarine MK-2866 SARM Magnus Pharmaceuticals  is only half as anabolic as testosterone, it is remarkable in being anti-catabolic, making it preferably applicable for use in-between cycles of anabolic steroids. Furthermore, it can be successfully used to hasten the reactivation of the HPTA, while also assisting in keeping any gains accumulated during the previous cycle, with the potential to add even more weight to your frame.
The exceptional features of MK-2866 Ostarine SARM Magnus Pharmaceuticals make it a handy choice for gym-goers. This SARMs can serve as a good option for those in search of safe alternatives to steroids during the breaks between cycles, and also a harmless solution to restore energy lost due to injuries. Ostarine is paramount in the magical sphere of SARMs if you'd like to put in more effort to remove the stubborn fat in the body. MK-2866 Ostarine SARM Magnus Pharmaceuticals - an effective way to heal any harm caused by physical activities.
The evidence suggests that taking Ostarine MK-2866 SARM Magnus Pharmaceuticals can be very advantageous in the repair and even prevention of harm to tendons, ligaments, and bones. Studies have demonstrated that it is more effective than testosterone when it comes to defending against injury. Consequently, a lot of fitness fanatics and body builders who experience injuries while they are training have come to prefer it. Furthermore, it has potential for use in the treatment of muscle-wasting conditions, osteoporosis, and other ailments. Taking Ostarine MK-2866 SARM Magnus Pharmaceuticals in a cycle can present even more rewards.
Ostarine MK-2866 SARM Magnus Pharmaceuticals is an extremely useful tool in promoting effective dieting. On its own, it helps to preserve muscle mass and strength, but when stacked with other SARMs and PPARs, it is incomparable for fat loss and maintaining muscle. Additionally, it has been demonstrated to greatly boost cardiovascular endurance when added to a cutting cycle with Cardarine (GW-501516), especially when exercise is done for long periods of time.
At Magnus Pharmaceuticals, customers have the option to utilize their online system for verifying the authenticity of their products. By doing so, customers can be certain that their product is genuine and provided by Magnus Pharmaceuticals.
COMPOSITION
Serving size: 1 capsule
Serving per comtainer: 100
Amount per serving
%DV
MK-2866


((2 S) -3- (4-cyanophenoxy) -N- [4-cyano-3- (trifluoromethyl) phenyl] -2-hydroxy-2-methylpropanamide

)
10mg*
Other ingredients: Gelatin (capsules), Magnesium stearate.
DIRECTIONS OF USE
Suggested use: 20-30mg per day.
REVIEWS
There is no review
Atsiliepimas Atsiliepimas
Related Blog Posts