SARMS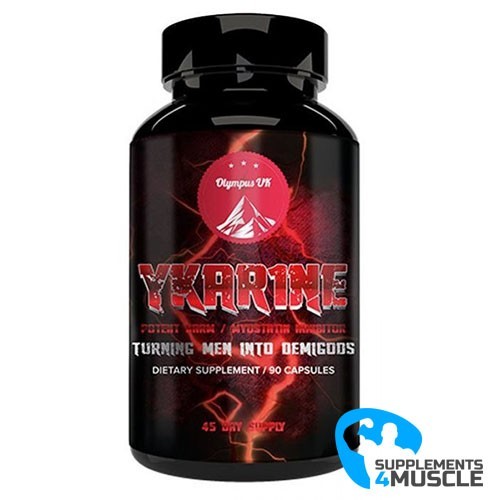 
Olympus Labs Ykar1ne
A strong promoter of anabolic processes
Has anti-catabolic properties
Increases the concentration of follistatin
Limits the activity of myostatin
Increases the level of MRFs
Focused on expanding a musculature
Increases the size of muscles
Promotes loss of excess fat
DESCRIPTION
COMPOSITION
DIRECTIONS OF USE
REVIEWS
DESCRIPTION
Olympus Labs Ykar1ne
Androgen receptors, which belong to the nuclear receptor family, are responsible for controlling the transcription of specific genes. When partnered with co-regulatory proteins, they remain inactive until an androgen enters the cytoplasm. Once the ligand is accepted by AR, a process of activation followed by movement from the cytoplasm to the nucleus begins.
At the AR-androgen complex site, androgen response elements - ARE - unite with necessary DNA pieces and draw in the necessary controllers - for instance, co-activators or co-repressors - to either increase or weaken the transcription of genes, allowing the formation and healing of specific structures.
The ability to use AR to its fullest extent is enabled by an interaction related to the fusion and joining of the AF-1 subdomain (within the NTD domain) with the LBD domain which houses the AF-2 subdomain, referred to as the N/C interaction.
Many compounds, such as testosterone and DHT, bind to androgen receptors, and if these compounds become too active, it can cause a variety of negative effects.
A new type of compound, known as selective modulators of androgen receptors (SARMs), was created in response to the effects of androgen receptors without the side effects that could come along with an excessive amount of androgens.
SARM stands for selective androgen receptor modulators. These are a collection of steroids and non-steroidal substances that can interact with androgen receptors and trigger changes to their ligand-binding domains.
Perfect Selective Androgen Receptor Modulators (SARMs) are known to have a substantial connection with the androgen receptor (AR), stronger than the androgens naturally found in the body, and they only act upon certain areas of the body. These areas include muscles, bones and the nervous system, without affecting the prostate, resulting in the desired effects.
Generally speaking, they do not convert to either 5a-reductase or aromatase, which means that DHT and estrogens have no effect on them and consequently, they are not linked to any of these hormones' adverse effects.
This ligand has a very high affinity for ARs compared to testosterone or DHT, and is highly specific to certain tissues. However, its action does not fully correspond to the expected effects of SARMs, seen in its inability to activate the N/C interface, making it a partial agonist of these receptors.
Despite its inability to completely activate androgen receptors, YK-11 is very effective in raising the levels of the main muscle-regulating factors like MyoD, Myf5, and myogenin more so than DHT. Through the increase of follistatin (FST) levels, YK-11 facilitates the myogenesis process by suppressing the action of myostatin, a protein which naturally regulates the size of muscles.
Olympus UK YKAR1NE is a highly potent anabolic agent that utilizes muscle-related factors and myostatin blocking to generate additional muscle strands. It facilitates the formation of muscle mass while reducing superfluous body fat, leading to a distinctly firm and skinny figure.
COMPOSITION
Serving Size: 1 Capsule
Servings Per Container: 90
Amount Per Serving
YKAR1NE:
(17α,20E)-17,20-[(1-methoxyethylidene)bis-(oxy)]-3-oxo-19-norpregna-4,20-diene-21-carboxylic acid methyl ester
3 mg
Other Ingredients: Rice Flour, Magnesium Stearate, Gelatin.
DIRECTIONS OF USE
As an adult dietary supplement, take 1 capsule twice daily with meals. Do not exceed more than 2 capsules in a 24 hour period of time.
REVIEWS
There is no review
Atsiliepimas Atsiliepimas