SARMS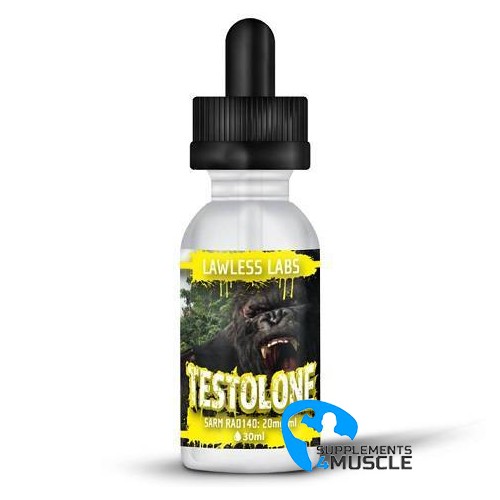 
DESCRIPTION
COMPOSITION
DIRECTIONS OF USE
REVIEWS
DESCRIPTION
Lawless Labs Testolone RAD-140 30ml
RAD140, or testolone, is a type of SARM from a newer group. It offers the same benefits as testosterone, but with a stronger anabolic effect and without any adverse reactions. It is thought that it could be used as an alternative therapy to current treatments, as the positive outcomes are more beneficial, despite its lack of side effects.
RAD 140 (Testolone) is a member of the group of Selective Androgen Receptor Modulators, otherwise referred to as SARMS. The primary benefit of this SARM relative to anabolic steroids is that it offers comparable results with virtually no adverse effects. This compound is indeed remarkable when compared to other SARMS.
Training to become the best takes a lot of time, dedication and hard work in the gym. What if there was a supplement that could give you an extra edge when striving for greatness? Lawless Labs RAD-140 provides unmatched anabolic effects to assist with gaining muscle mass and decrease fat deposits. This aids quick recovery after exercises such as cardio and strength training.
Lawless Labs RAD-140 triggers androgen receptors located in our bones and tissues. It presents a more secure and suitable replacement for testosterone supplementation and is capable of swiftly increasing levels of testosterone. Not only this but it also spares the user from any steroidal effects and has been proven to safeguard brain cells from aging-related harm. In addition to protein synthesis, Lawless Labs RAD-140 can also enhance nitrogen retention, endurance, and provide you greater vigor during heavy training. Don't just wish for improved performance, order Lawless Labs RAD-140 immediately!
COMPOSITION
Serving Size: 1ml
Servings Per Container: 30
| | |
| --- | --- |
| Amount Per Serving | 1ml |
| RAD 140 | 20mg |
Other ingredients: PEG300
DIRECTIONS OF USE
Dosage: 20mg daily (1ml - 1serving).
Cycle length: 4-12 weeks
REVIEWS
There is no review
Atsiliepimas Atsiliepimas