SARMS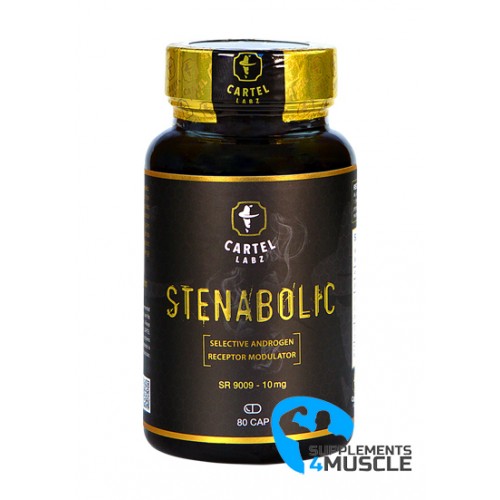 
Cartel Labz Stenabolic SR-9009 80cap
Cartel Labz Stenabolic SR-9009 80cap
SR-9009, otherwise known as Stenabolic, functions by attaching itself to the PPAR Delta receptor. This activation signals the body to increase its amount of mitochondria, which is essential for increasing muscle mass since the mitochondria act as the power sources for the cells. As a result, Stenabolic increases the body's energy and stamina.
DESCRIPTION
COMPOSITION
DIRECTIONS OF USE
REVIEWS
DESCRIPTION
Cartel Labz SR-9009 Stenabolic 80cap
SR-9009 Stenabolic 10mg from Cartel Labz helps to boost energy levels due to the rise in mitochondrial amount. It enables you to have more power and perseverance during hard-core workouts. Sports people have expressed feeling energized while using Stenabolic. Furthermore, it may help shed fat and sustain slim muscle tissue.
SR-9009 Stenabolic is usually associated with SARMs, yet it does not have the same steroidal consequences. Consequently, it offers the same muscle-building and fat-loss results without any of the negative hormonal impacts.
Cartel Labz provides outstandingly good quality with 10mg of SR-9009 Stenabolic per caplet/measure. It is straight forward to consume orally, not requiring an injection. Obtain SR-9009 Stenabolic on the web for improved workouts and more rapidly outcomes!
The primary benefit of SR-9009 Stenabolic 80cap is increased stamina and strength. It offers motivation to exercise regularly and reach beyond your limitations. Additionally, it can contribute to weight loss and the toning of muscle mass. Here are some of the additional benefits of Stenabolic:
Boosts energy output, offering greater energy and endurance, improving your mood, slimming down, eliminating fat cells, and toning muscles, with no issues related to steroids. Additionally, these capsules can be ingested orally and are legal in all European nations.
COMPOSITION
Serving Size: 1 Capsule
Servings Per Container: 80
| | |
| --- | --- |
| Amount Per Serving | |
| Stenabolic (SR9009) - 3-[[[(4-Chlorophenyl)methyl][(5-nitro-2-thienyl)methyl]amino]methyl]-1-pyrrolidine-carboxylic acid ethyl ester: | 10mg |
Other ingredients: Organic Rice, Rice Flour, Gelatin (Bovine), Magnesium Stearate.
DIRECTIONS OF USE
Recommended dosage:
As a dietary supplement use 1 capsule 1 time daily. Higher doses consult with physician or specialist. NEVER exceed the recommended dosage.
WARNING:
For adults only, not recommended for persons under 18 years of age. Do not use this product if you have any health problems. Always consult a doctor before using the product. CARTEL LABZ, Inc. is not responsible for health problems caused by incorrect dosing. The sale of materials is intended only for laboratory and research purposes. KEEP OUT OF REACH OF CHILDREN.
REVIEWS
There is no review
Atsiliepimas Atsiliepimas