SARMS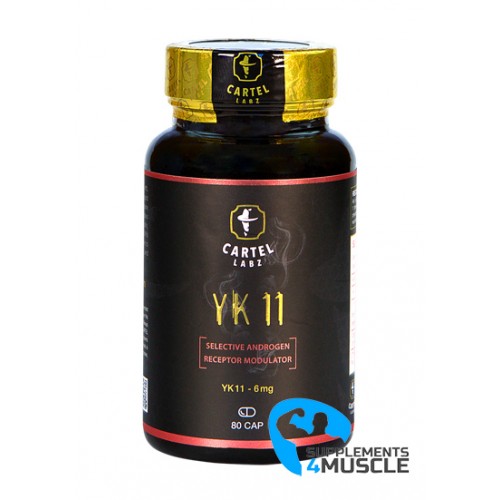 
Cartel Labz YK-11 80cap
Cartel Labz YK 11
YK-11, sometimes referred to as MYOSTINE, provides a number of advantages, the most notable of which are increased muscle growth, fat burning, and amplified strength. It encourages muscle cells to make more follistatin, which inhibits myostatin tremendously. As a result, remarkable improvements in muscle tissue quality and lowering of subcutaneous fat are possible.
DESCRIPTION
COMPOSITION
DIRECTIONS OF USE
REVIEWS
DESCRIPTION
Cartel Labz YK 11 80cap
YK 11 by Cartel Labz can help bodybuilders, strength athletes and gym rats reach their fitness goals faster. This myostatin inhibitor delivers quicker gains and more fat burning power per capsule, with 6mg per serving. Taking YK 11 is easy as it is taken orally, not needing to be injected. Purchase online and experience better training sessions and faster results with YK 11 by Cartel Labz.
YK 11 is a strong supplement ideal for incorporating into a bulking cycle. It restrains myostatin so your muscles can develop farther than they typically would. This makes it an incredibly potent product that yields impressive results in a short amount of time. What are the advantages of YK 11 80cap?
This product prevents the action of myostatin, helping to increase muscle growth beyond natural limits; it supports the building of muscle and fat burning, leading to a muscular, lean physique. It can also maximize the "pump" feeling while exercising, and can be ingested orally. It is allowed to be sold in all European nations.
COMPOSITION
SServing Size: 1 Capsule
Servings Per Container: 80
| | |
| --- | --- |
| Amount Per Serving | |
| YK-11 (17, 20E)-17, 20-[(1-methyoxyethylidene)bis-(oxy(]-3-oxo-19-norpregna-4, 20-diene-21-carboxylic acid methyl ester | 6mg |
Other ingredients: Organic Rice, Rice Flour, Gelatin (Bovine), Magnesium Stearate.
DIRECTIONS OF USE
Recommended dosage:
As a dietary supplement use 1 capsule 1 time daily. Higher doses consult with physician or specialist. NEVER exceed the recommended dosage.
WARNING:
For adults only, not recommended for persons under 18 years of age. Do not use this product if you have any health problems. Always consult a doctor before using the product. CARTEL LABZ, Inc. is not responsible for health problems caused by incorrect dosing. The sale of materials is intended only for laboratory and research purposes. KEEP OUT OF REACH OF CHILDREN.
REVIEWS
There is no review
Atsiliepimas Atsiliepimas