SARMS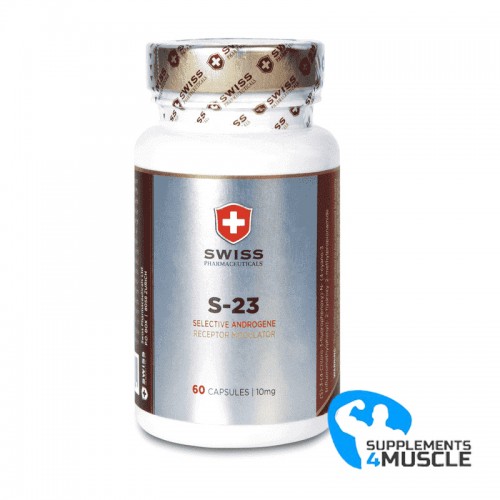 
Swiss Pharmaceuticals S-23 60 caps
One of the strongest SARM against muscle atrophy, helps build muscle and provides bone strength and increased fat loss.
DESCRIPTION
COMPOSITION
DIRECTIONS OF USE
REVIEWS
DESCRIPTION
Swiss Pharmaceuticals S-23 60caps
S-23 is recognized as one of the most potent Selective Androgen Receptor Modulators (SARMs) utilized within the bodybuilding world. These special kinds of androgen receptor modulators seek out specific androgens and affect bone, joint, and muscle tissue.
Swiss Pharmaceuticals S-23 has a plethora of benefits for fitness-minded individuals looking to become stronger, faster, and leaner. This revolutionary drug can increase muscle growth and improve athletic performance in as little as 8-12 weeks. Furthermore, it can strengthen bones, improve libido in both men and women, and reduce average body weight and fat mass. Not to mention, Swiss Pharmaceuticals S-23 activates bone-building cells and improves bone mineral density, further strengthening and toughening muscles.
If you consume Swiss Pharmaceuticals' S-23, you could gain from improved bone strength and an increase in fat-free muscle mass. This is because S-23, a Selective Androgen Receptor Modulator, stimulates the development of fat-free muscle, enabling you to build muscle without extra fat or water.
Taking Swiss Pharmaceuticals S-23 has the additional advantage of increasing the strength of your bones. This is because the substance improves mineralization in the skeleton, thus making bones sturdier. When performing bodybuilding or weight lifting, bones are put through a great deal of strain, thus it is beneficial to give them some extra support. Moreover, S-23 also increases the amount of muscle mass near bones, thus bolstering the bones' strength. Both low and high doses of the drug have beneficial impacts on bone health.
SARM S-23 not only has many other benefits, but it can also help to lower fat levels. Weightlifters and athletes that take this supplement tend to strive for lean muscle - meaning they want the muscle they obtain to not be accompanied by additional fat. Swiss Pharmaceuticals' S-23 is an incredibly effective and helpful tool in achieving this goal.
A low-calorie diet can cause you to shed both fat and muscle mass. S23 from Swiss Pharmaceuticals helps to maintain lean tissue, so that you only burn fat. Get your S-23 now to avoid muscle wastage and potentially even gain muscle!
COMPOSITION
Serving Size: 1 Capsule
Servings Per Container: 60
| | |
| --- | --- |
| Amount Per Serving | |
| S-23 | 10mg |
Other ingredients: gelatine, magnesium stereate
DIRECTIONS OF USE
Dosage: 1 capsule daily with sufficient liquid. Maximum 2 capsules per day. Higher dosage for advanced users should be discussed with a doctor or specialist.
Supplements are no substitute for a healthy diet. Consumption and use is at your own risk. Take this product only if you are healthy and over 18 years old. Consult a doctor before use and do not exceed the recommended daily intake. Please do not combine this product with alcohol, drugs or medicines. This product must not be allowed to get into the hands of children. Store in a cool and dry place after opening.
REVIEWS
There is no review
Atsiliepimas Atsiliepimas