SARMS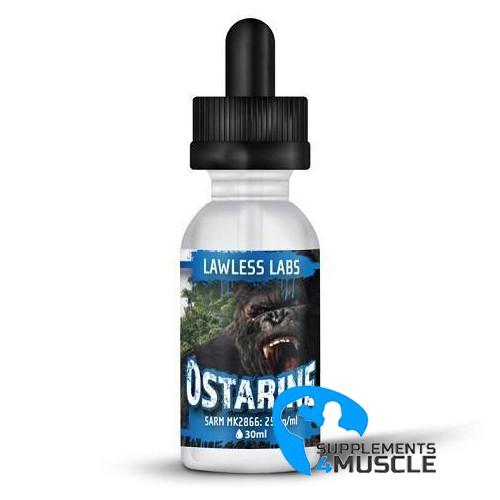 
DESCRIPTION
COMPOSITION
DIRECTIONS OF USE
REVIEWS
DESCRIPTION
Lawless Labs Ostarine MK-2866 30ml
Lawless Labs Ostarine (MK-2866) is highly regarded as an outstanding recomposition Selective Androgen Receptor Modulator (SARM). It is considered one of the best muscle-building agents and can help you increase solid muscles and burn off stubborn fat simultaneously.
SARMs, or selective androgen receptor modulators, have similar impacts to anabolic and androgenic steroids, but with no or reduced negative effects. Ostarine can be taken advantage of for building muscle mass, as a supplement during a diet plan, or for body shape manipulation.
Minimizes superfluous fat beneath the skin,
Alleviates aches in joints,
Produces collagen,
Diminishes blood sugar levels,
Decreases insulin through lowering the reluctance to accept it,
Upsurges bone strength,
Upswings amour propre,
Strengthens body capability while exercising.
Ostarine MK-2866 is a popular and well-known SARM since it was one of the first products of its kind to be introduced to the market. Its 100% anabolic nature means you can't measure the androgenic effects, and majority of users attest to its power due to vast increases in muscle mass and simultaneously droppings of body fat. Even without exercising, bodybuilders have reported 5 kilograms of high-quality muscle mass gained over one cycle. Furthermore, scientific investigations indicate muscles can be increased by at least 1.4 kilograms when not training. We do highly suggest, however, that frequent workouts are conducted to maximize its powerful benefits.
This SARM is deemed to be very safe. It does not meddle with testosterone or oestrogen levels due to it not being a hormone treatment. Any adverse reaction to the liver is very unlikely. Nonetheless, it is suggested to take Cycle Support for full safety.
Ostarine (MK-2866) from Lawless Labs is an excellent choice when it comes to getting the gains you need. Not only can it be used to build bulk in terms of size, mass and definition, but it also helps fortify your bones while keeping estrogenic effects at bay. This includes minimizing oily skin, gynecomastia and fluid retention. On top of that, it can even help prevent muscle breakdown, wasting and strengthen your bones and lean muscle mass. Get yours now!
COMPOSITION
Serving Size: 1ml
Servings Per Container: 30
| | |
| --- | --- |
| Amount Per Serving | 1ml |
| Ostarine MK-2866 | 25mg |
Other ingredients: PEG300
DIRECTIONS OF USE
Dosage: 25mg daily (1ml - 1serving).
Cycle length: 4-12 weeks
REVIEWS
There is no review
Atsiliepimas Atsiliepimas