SARMS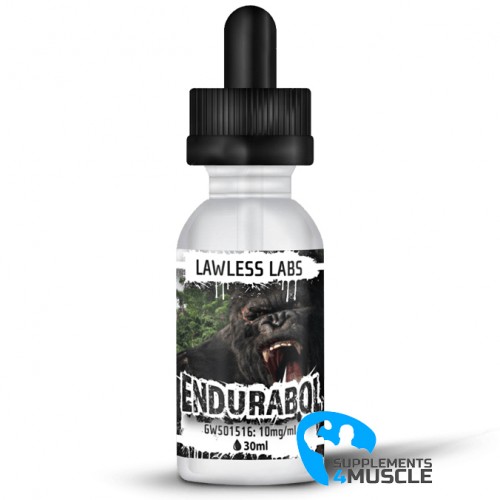 
Lawless Labs Endurobol GW501516 30ml
Burns fat
Has strong anti-catabolic
Strong anabolic effects
DESCRIPTION
COMPOSITION
DIRECTIONS OF USE
REVIEWS
DESCRIPTION
Lawless Labs Endurobol GW501516 30ml
GW 501516, otherwise referred to as Cardarine, was first observed by Glaxo Smith Kline and Ligant Pharmaceuticals in 1992. When Cardarine binds to the PPR receptor, it co-activates PGC-1α along with an enzyme, thus leading to a rise in the genes which are linked to energy expenditure.
Lawless Labs' Endurobol GW-501516 30ml capsules are renowned for being some of the most effective fat-burning supplements offered. Commonly known as Cardarine, it has anti-inflammatory effects, enabling users to enhance and strengthen lean muscles safely and rapidly. Not only does it protect users' livers and kidneys from harm, but it also enhances cardiovascular health. A great option for both genders, it is suitable for any cycle, including cutting, bulking, and recomposition. Endurobol presents a tremendous benefit in that it does not require post-cycle therapy, making it exceptionally safe for the body.
Cardarine is an amazing supplement - its chief advantage being that it increases endurance levels. You'll be able to power through challenging gym sessions and make it easier to attain your weight loss goals. Plus, due to its fat-reducing properties, your muscles will come to define themselves, making for an attractive figure. Cardarine has the power to provide the three key benefits for bodybuilders: enhanced stamina, fat-reducing capabilities and defined muscles.
Get your hands on Lawless Labs Endurobol GW-501516 30ml right away!
COMPOSITION
Serving Size: 1ml
Servings Per Container: 30
| | |
| --- | --- |
| Amount Per Serving | 1ml |
| GW501516 | 20mg |
Other ingredients: PEG300
DIRECTIONS OF USE
Dosage: Take 0.5 ml in the morning and 0.5 ml in the second half of the day.
REVIEWS
There is no review
Atsiliepimas Atsiliepimas