SARMS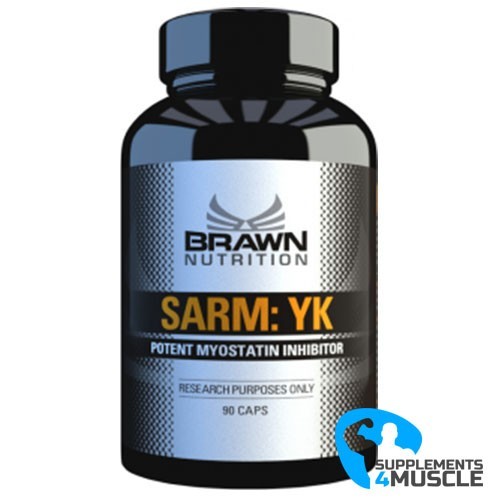 
DESCRIPTION
COMPOSITION
DIRECTIONS OF USE
REVIEWS
DESCRIPTION
Brawn YK-11
The chemical composition of Brawn YK-11 is similar to that of steroids, but this does not mean that it is a steroid. Rather, it belongs to the group known as selective androgen receptor modulators (SARMs). Owing to its structural makeup - including the steroid skeleton - it is one of the most powerful and efficient SARMs. YK11 binds with the androgen receptor, which triggers an influx of anabolic factors in the muscle cells, eventually leading to an increase in muscle mass.
Unlike other SARMs, YK 11 is much more efficient and has a stronger androgenic effect. Evidence from clinical experiments demonstrate that 500 nmol of YK 11 generates a larger amount of anabolic compounds than the same dosage of testosterone. As is true for any SARM, the use of YK 11 is related to a growth of muscle cells.
This compound is ideal for people who desire to bulk up their muscles, as well as those who seek to maintain the existing muscle mass on their body without too much fat gain. The positive effects of YK11 can be seen with not just its capacity to increase muscle size but also due to its potency in reducing general fat content. It is notably helpful to people whose hereditary conditions prevent them from achieving substantive muscle gains. Thanks to the fact that YK11 is a myostatin inhibitor, it makes up for this.
Myostatin is a protein that keeps the growth of muscles at a natural level by inhibiting the creation of additional fibers. For some individuals it is difficult to gain the anticipated muscle because they have an above average concentration of the protein in their body. YK 11 makes it possible to achieve the desired musculature without having to make any changes to the body's natural levels.
In conclusion, YK 11 is one of the top SARMs available for purchase. It is known for its ability to help create and build lean muscle. Unlike regular steroids, YK11 only influences certain cells. For the most successful results from taking this compound, it is important to stay physically active and exercise. When done together, you can see amazing gains in muscle definition and strength as well as a reduction in unwanted fat.
COMPOSITION
Serving Size: 1 Cap
Servings Per Container: 90
| | |
| --- | --- |
| Ingredients | Per serving |
| (17-alpha,20E)17,20-[(1-methoxyethylidene)bis(oxy)]3-oxo-19-norpregna-4,20-diene 21-carboxylic acid methyl ester | 4 mg |
Other Ingredients: Rice flour, Gelatine (capsule).
DIRECTIONS OF USE
Take 2-3 caps per day. Do not exceed the recommended dose or run YK-11 for longer than 6-8 weeks.
REVIEWS
There is no review
Atsiliepimas Atsiliepimas