SARMS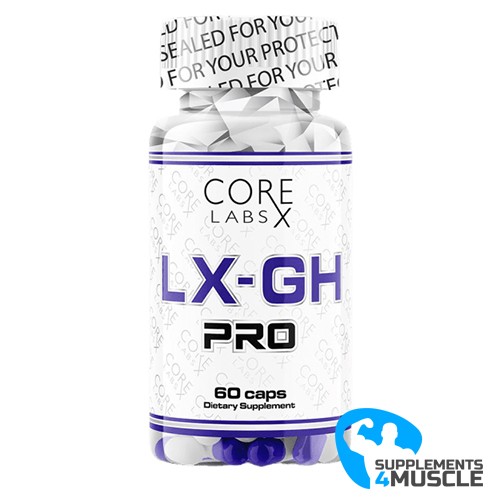 
Core Labs X LX-GH Pro 60 caps
Ultimate Anabolic Growth!
Lean Mass & Strength
Increased Protein Synthesis
Muscle Cell Regeneration
Balance Cortisol
DESCRIPTION
COMPOSITION
DIRECTIONS OF USE
REVIEWS
DESCRIPTION
Core Labs X LX-GH Pro 60 caps
Want to order the most powerful anabolic supplement that is safe and potent enough to give you the workout results that you dream of? Core Labs X LX-GH Pro will help you experience the best of muscle cell regeneration, protein synthesis, nitrogen retention, and cortisol. 
Considered to be the strongest anabolic preparation on the market, Core Labs X LX-GH Pro accelerates the development of muscle mass. Enriched with top SARMs on the market (Laxosterone, Epistane, RAD-140, LGD-4033, MK-677, and YK-11), Core Labs X LX-GH Pro is definitely one bodybuilding and fitness supplement that you cannot miss out on. Count on Core Labs X LX-GH Pro to bring out the best in you by making the most out of your cutting and bulking cycles.
Helps you easily retain solid muscle mass and strength gains while avoiding the 'post-cycle blues'
Promotes significant improvements in the levels of strength, energy, workout performance, and libido
Improves total and circulating free testosterone
Promotes lean mass gains
Helps you pack on size faster with your intense workouts
Helps you get quicker results from your intense cardio and resistance training sessions
Helps you make clean and quick bodybuilding sessions and fitness gains
Improves muscle definition and vascularity
Helps you lift more and shed excess body fat
Excellent option for fitness enthusiasts who want to enhance workout frequency and length
Bring home the gamechanger because settling for anything less is not just an option. Choose from a wide range of top sports, fitness, and bodybuilding supplements now. Order best dietary supplements, prohormones, SARMs, and PCT products now! Order Core Labs X LX-GH Pro from Supplements4muscle.com now.
COMPOSITION
Serving Size: 1 Capsule
Servings per Container: 60
Amount Per Serving
% Daily Value
Laxosterone (Laxogenin)
50 mg
Armistane (Androsta 3,5-dien-7,17-dione)
25 mg
Epistane (2a,3a-epithio-17a-methyl-4,5a-dihydrotestosterone)
20 mg
RAD-140 (2-Chloro-4-(((1R,2S)-1-[5-(4-cyanophenyl)-1,3,4-oxadiazol-2-yl]-2-hydroxypropylamino)-3-methylbenzonitrile)
5 mg
LGD-4033 (4-[(2R)-2-[(1R)-2,2,2-trifluoro-1-hydroxyethyl]pyrrolidin-1-yl]-2-(trifluoromethyl)benzonitrile)
5 mg
MK-677 (2-amino-2-methyl-N-[1-(1-methylsulfonylspirol[2H-indole-3,4`-piperidine]-1`-yl)-1-oxo-3-phenylmethoxypropan-2-yl]propanamide)
3.5 mg
YK-11 (

(17α, 20E) -17.20 - [(1-methoxyethylidene) bis (oxy)] - 3-oxo-19-norpregna-4,20-diene-21-carboxylic acid Methyl ester)

1 mg
Bio-Complex Support System:
Icariin 60%, N-caetyl L-cysteine, Alpha Lipoic Acid, TUDCA (Tauroursodeoxycholic Acid), Milk Thistle 80%, Grape Seed Extract 95%, Vitamin B-6 (as Pyridoxine HCL), Vitamin B12 (as Cyanocbalamin), Niacin (Vitamin B3), Liposomal Vitamin C (as Ascorby I Palmitate), Vitamin D3 (as Cholecalciferol), Vitamin E TPGS, Piperine 95%, Naringenin
600 mg
DIRECTIONS OF USE
Take 3 capsules daily for optimal results. Do not exceed 4 capsules in a 24 hour period. Do not use for more than 12 weeks without a 4 week break between cycles.
REVIEWS
There is no review
Atsiliepimas Atsiliepimas