SARMS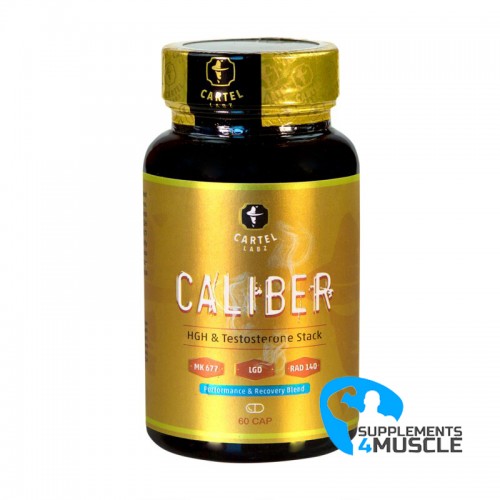 
Cartel Labz Caliber 60cap
CALIBER 60CPS CARTEL LABZ - An excellent mix of Sarms for an increase in muscle mass, strength and definition of muscles.
DESCRIPTION
COMPOSITION
DIRECTIONS OF USE
REVIEWS
DESCRIPTION
Cartel Labz Caliber 60cap
TESTOSTERONE ACTIVE BLEND:
ARIMESTANE (Androsta-3,5-diene-7,17-dione) is an incredibly effective Aromatase Inhibitor that functions through multiple pathways to catalyze an anabolic state. It can reduce cortisol and estrogen levels while stimulating an increase in the quantity of free testosterone in the body. People who have taken Arimistane-30 have reported a sizeable improvement in libido and a corresponding boost in strength when doing physical activities. Furthermore, using a calorie restricted diet in tandem with the supplement can accelerate fat loss.
RAD 140 is considered to be among the most reliable SARM products created thus far. It is celebrated as having top-notch staying power and excellent tolerability. It can take the place of testosterone replacement therapy, as it mirrors the effects of large doses of testosterone, yet causes less adverse reactions than when utilizing powerful anabolic substances.
The drug has a strong link to androgen receptors and is more effective than testosterone at inciting anabolic processes. It has an impressive ability to build up muscle mass and aids in the regeneration of both the bones and nerves. It creates optimal conditions to promote the growth of muscle tissue.
MACA is a nutraceutical deriving from maca root extract containing numerous beneficial components for the body. From an enhancement of one's immune system to decreasing fatigue and speeding up recovery periods, maca has been deemed a "superfood" owing to its advantageous traits. It is also credited for increasing energy levels, balancing sex hormones, and manipulating regular thyroid activity.
HGH ACTIVE BLEND:
MK-677 Ibutamoren is a major disruption in the SARM space! It is a superb substitute for the pricy human growth hormone injections. This 'Holy Grail' has been appreciated by bodybuilders, celebrities, and achievers! Ibutamoren boosts somatotropin (growth hormone) and insulin-like growth factor (IGF-1) secretions without increasing cortisol rate. This year, MK-677 has been established in pharmacies all over the United States implying its astounding capabilities!
Ibutamoren is capable of increasing the level of IGFBP-3 (insulin-like growth factor-binding protein 3) which is necessary for the correct functioning of IGF-1. It stimulates receptors of growth hormone, creating a ghrelin mimic that is referred to as the "hunger hormone". It has the potential to prompt growth of muscle tissue, yet MK677 won't lead to a raise in cortisol levels as opposed to ghrelin. Furthermore, this drug can cause the same effects of ghrelin, but without its adverse effects.
LGD-4033, otherwise known as Ligandrol, is an effective and targeted androgen receptor modulator that opts out of the steroid compound. The way this works is by attaching itself to the androgen receptor, causing an increase of anabolic activity in your skeletal muscles which ultimately leads to weight gain. It is thought to be one of the most powerful legal anabolic substances available, gaining its recognition in the medical world as a method of treating muscle-wasting conditions related to certain illnesses. Despite being surprisingly missed by the public eye, lab studies validate the effectiveness of the product at a limited dose; decreasing the possibility of unseemly reactions.
Furthermore, the study's findings were surprisingly impressive, as SARM LGD showed higher potency compared to using Ostarine, which is a go-to steroid alternative. Early indications point to the large potential of this substance which may soon become a more popular choice for consumers. It could be beneficial to all those who seek the strongest supplements on the market, or those who have already utilized all available options.
Epistane is often praised for its powerful anabolic properties and negligible side effects originating from its DHT properties. These properties stimulate androgen receptors in the muscles, resulting in the creation and growth of new muscles. Additionally, 2a,3a-epithio-17a-methyl-5a-androstan-17b-ol is categorized as an anti-estrogen and does not spark any hormonal reactions associated with progesterone, helping to reduce the risk of unwanted side effects such as gyno.
This agent carries potent anabolic properties that contribute to the building of hard, lean, and thin muscle. Additionally, it reduces body fat and water weight, thereby maintaining the characteristic curves of the male physique. Furthermore, it greatly boosts strength, enhances libido, and enhances overall health. The methylation process used also enhances the overall efficacy and bioavailability of the product.
Epistane attaches itself to androgen receptors located in the skeletal muscle cells and the muscle stem. As a result, there are changes in how muscle cells function and the rate of protein synthesis. Muscles stemming from adult skeletal muscle acquire a higher capability of growth and repair due to this binding.
In contrast, androgens hinder the capability of stem cells to generate new fat cells, thereby enhancing the nourishment of muscles.
COMPOSITION
Serving Size: 1 Capsule
Servings Per Container: 60
| | |
| --- | --- |
| Amount Per Serving | |
| TESTOSTERONE ACTIVE BLEND: | |
| ARIMESTANE (Androsta-3,5-diene-7,17-dione) | 30mg |
| RAD 140  | 6mg |
| MACA extract | 40mg |
| HGH & MASS ACTIVE BLEND: | |
| MK-677 Ibutamoren | 20mg |
| Ligandrol / LGD-4033  | 4mg |
| Epistane | 10mg |
| RECOVERY BLEND: | |
| D-Asparatic Acid | 90mg |
| L-Cysteine N-Acetyl | 50mg |
| VITAMIN BLEND: | |
| Magnesium | 40mg |
| Zinc | 6mg |
| B6 | 5mg |
| Boron | 3mg |
DIRECTIONS OF USE
Dosage: 1 capsule 1 time daily. Never exceed the recommended dosage.
REVIEWS
There is no review
Atsiliepimas Atsiliepimas