SARMS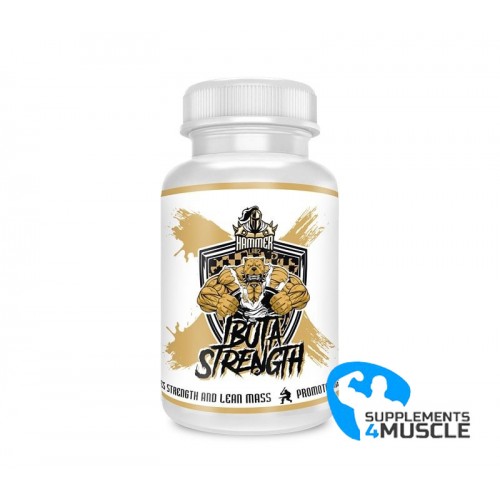 
DESCRIPTION
COMPOSITION
DIRECTIONS OF USE
REVIEWS
DESCRIPTION
Hammer Labz Ibuta Strength 60caps
Hammer Labz is a new manufacturer of dietary supplements from the USA. The wide product range includes supplements with strong, active ingredients intended for advanced athletes. Effective operation and strong formulas, as well as testing and analysis of each batch of products by independent laboratories ensure the highest care for the consumer. High-quality products in clinical doses ensure the best sports results. Innovative recipes created by Hammer Labz have a chance to become the leading pre-workout supplements, muscle building preparations, prohormones and fat burners.
It is the only effective alternative to injectable growth hormone
It increases the concentration of somatotropin (GH) and IGF-1
It does not raise the level of cortisol
It exhibits anabolic and anti-catabolic action
Supports the construction of pure muscle mass
It supports the reduction of body fat
It improves the regeneration of the body
Increases muscle strength and endurance
MK-677 increases lipolysis and increases metabolism, even in small doses. It is one of the best products for body recomposition and unnecessary fat loss used by professional athletes. It provides a healthy restful sleep, without waking up in the middle of the night, also accelerating the regenerative processes and reducing the problem of insomnia caused by excessive training or by the use of strong anabolic agents.
Interestingly, it also affects the growth of hair follicles, inhibiting the excessive activity of the androgens that cause hair loss. The preparation has a strong anabolic-anti-catabolic effect, effectively reduces the level of Cortisol in the blood and creates the ideal conditions for the development of muscle mass. In addition, it does not change the levels of prolactin and luteinizing hormone (LH). In some cases, it can lead to a decrease in total Testosterone, but without interfering with the amount of free Testosterone.
COMPOSITION
Serving Size: 1 Capsule
Servings Per Container: 60
| | |
| --- | --- |
| Amount Per Serving | |
| MK-677 | 10mg |
DIRECTIONS OF USE
Dosage:
As an adult dietary supplement take 1 capsule one to 2 times daily with meals. Do not exceed 2 capsules in 24 hour period. For best effects, use Ibuta Strength for 12 weeks
REVIEWS
There is no review
Atsiliepimas Atsiliepimas