SARMS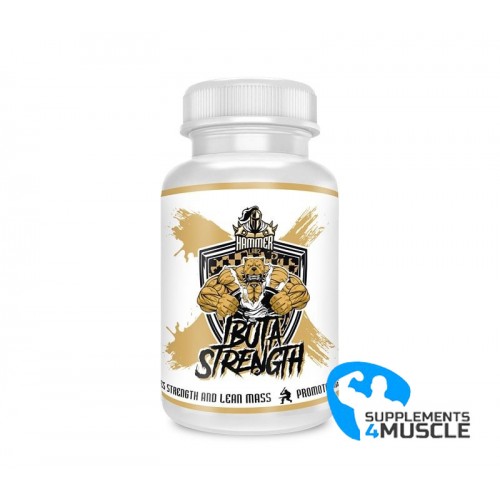 
DESCRIPTION
COMPOSITION
DIRECTIONS OF USE
REVIEWS
DESCRIPTION
Hammer Labz Ibuta Strength 60caps
Hammer Labz is a newly established Supplement Company based in the United States. Their products feature powerful compounds intended for experienced bodybuilders. The reliability and power of the formulas used are verified through laboratory tests and assessments conducted by third-party laboratories to guarantee the consumer's safety. These top-class products provided in clinical dosages promise maximized athletic results. The original recipes of Hammer Labz are hoped to result in the dominance of pre-workouts, muscle building potions, prohormones, and fat burners.
Hammer Labz Ibuta Strength 60caps is the sole reliable option to injections of growth hormones. It raises the quantity of somatotropin (GH) and IGF-1, boosted the anabolic and anti-catabolic performance, and encourages the expansion of pure muscle mass. Not only can it aid in the reduction of body fat, but it can also build muscle strength, advance endurance and rejuvenate the body.
MK-677 is great for body recomposition and getting rid of excess fat. It even works with small doses and has been embraced by professional athletes. Furthermore, it promotes restful sleep and can reduce insomnia caused by extreme exercise or strong anabiotics. It also has the potential to speed up the recovery process.
This product has a significant anabolic-anti-catabolic impact, helping to reduce Cortisol levels in the system to create the best situation for muscle growth. It is also effective at restraining androgens that are linked to hair loss, plus it doesn't affect the levels of luteinizing hormone or prolactin. There have been some instances of a decrease in total Testosterone, though that has not affected the amount of free Testosterone.
Hammer Labz Ibuta Strength 60caps is the best way to maintain healthy hormone levels, keep cortisol levels suppressed, and enjoy profound benefits for muscle growth and fat loss. This powerful yet safe supplement can provide you with the extra edge that you need to get the most out of your workouts and reach your fitness goals.
COMPOSITION
Serving Size: 1 Capsule
Servings Per Container: 60
| | |
| --- | --- |
| Amount Per Serving | |
| MK-677 | 10mg |
DIRECTIONS OF USE
Dosage:
As an adult dietary supplement take 1 capsule one to 2 times daily with meals. Do not exceed 2 capsules in 24 hour period. For best effects, use Ibuta Strength for 12 weeks
REVIEWS
There is no review
Atsiliepimas Atsiliepimas