PROHORMONES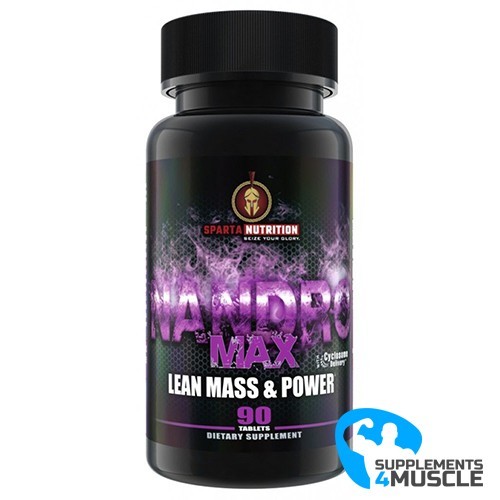 
DESCRIPTION
COMPOSITION
DIRECTIONS OF USE
REVIEWS
DESCRIPTION
Sparta Nutrition Nandro Max
Sparta Nutrition's Nandro Max is the next generation prohormone, and consists of 19-Nor Andro. This transform into nandrolone, which is known to many as Deca, and is highly appreciated. Sparta Nutrition has improved the effectiveness of this product by using a cutting-edge delivery system. This system combines the powers of cyclodextrin complex and liposomal technology, making this product more easily absorbed into the body.
Nandro Max has a 6: 1 androgenic to anabolic ratio, which can help increase muscle growth and make sure tendon, joint and bone joints stay safe during intensive training sessions. It became quickly popular in the prohormone product industry in the USA. Additonally, It is composed solely of 90mg of 19-Nor Andro, making sure it has the highest dose among competing products.
19-Nor Andro has been demonstrated to efficiently be converted into nandrolone. In a study, men who took not more than 250 mg of 19-NorAndro on a daily basis showed positive results for nandrolone after only three days. Similar to Deca Durabolin, 19-NorAndro will cause users to gain weight and strength, but it does not have strong aromatization, unlike nandrolone.
 19-NorAndro is a suitable supplement choice for bodybuilders who need to increase muscle strength, while protecting their joints from discomfort with lubrication. Its benefit is that it does not put strain on the liver, meaning it can be stacked with other products - such as 1-Andro, 4-Andro and Epi-Andro - to give an added advantage.
Nineteen-Nor Andro is an awesome option for swapping out frequently non-legitimate stacks throughout the fitness cycle. Picking the benefactor Nandro Max product ensures a successful usage of your resources. This item is not suited for anyone younger than 21 years of age.
COMPOSITION
Serving Size: 3 Capsules
Servings Per Container: 30
| | |
| --- | --- |
| | Amount Per Serving |
| 19-NOR ANDRO | 60mg |
DIRECTIONS OF USE
As a dietary supplement, take 1 capsule three times a day, dosed evenly throughout the day. Do not exceed the recommended dosage. 
REVIEWS
There is no review
Atsiliepimas Atsiliepimas