PROHORMONES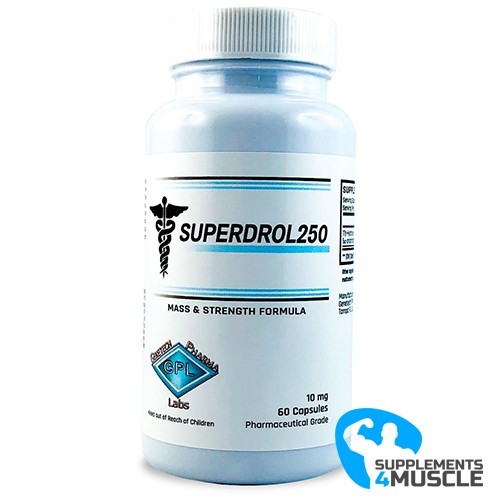 
DESCRIPTION
COMPOSITION
DIRECTIONS OF USE
REVIEWS
DESCRIPTION
Genetech Pharma Labs Superdrol250
Genetech Pharma Labs Superdrol250 is specifically designed for experienced weightlifters and bodybuilders who are looking for maximum results in the shortest amount of time. This company is renowned for its production of potent supplements and Superdrol250 is no exception. It is one of the most effective supplements available in the market, insofar as it can provide users with enhanced strength and muscle mass. However, it is important to note that the user should have already gone through two cycles on weaker prohormones and be well versed in proper diet and exercise techniques.
Superdrol 250 is a potent supplement, so the best way to begin a cycle with it is to take the smallest dose first to accustom the body to it, and then gradually increasing the amount to the preferred level. It's advised that beginners begin with a dose of 20mg for up to 3-4 weeks, and not bypass this period. If proper precautions are taken, a 4-5 week cycle could be considered for this supplement.
Superdrol is most efficient when utilized in ordinary bulking cycles; however, it can still be used in a cutting cycle, although other options may be more effective for this purpose.
Superdrol is incredibly admired by coaches, athletes, bodybuilders, and even visiting gym-goers all around the world - and that's no surprise! With its potent formula of mass and strength supports, Genetech Pharma Labs Superdrol 250 can help any and all of these individuals achieve a gain of 15-25lbs of lean muscles. Plus, the supplement enhances a positive nitrogen balance within the user's muscle cells, something which helps to amplify protein synthesis, tissue recovery and repair, and the building of bigger, stronger muscle proteins.
The benefits of Genetech Pharma Labs Superdrol 250 are plentiful. It inhibits the body from entering a catabolic state, meaning it prevents muscle loss. Its use also prevents muscle soreness and exhaustion caused by prolonged exercise, allowing consistent gym sessions. Furthermore, not only does it facilitate hard, dry gains with no water retention or bloating, but also grants enhanced energy levels, endurance, and intensity. Don't miss out - make Genetech Pharma Labs Superdrol 250 your choice.
COMPOSITION
Serving Size: 1 capsule
Serving Per Container: 60 servings
| | |
| --- | --- |
| Amount Per Serving | %DV |
| 17ß-Hydroxy-2α,17α-dimethyl-5α-androstane-3-one | 10mg** |
Other Ingredients: Gelatin (capsule), maltodextrin, magnesium.
DIRECTIONS OF USE
DIRECTIONS: As a dietary supplements being taken 1 capsule a day for the first seven days after the first week 1 capsule twice time a day. Use in the morning with a meal and 8 hours later after a meal . Do not exceed 3 capsules a day. Do Not use the product longer than 4 weeks without interruption. After 4 weeks of use, a minimum of 4 weeks should be taken with post cycle therapy. Keep in a cold and dry place. Use before the end of the date.
REVIEWS
There is no review
Atsiliepimas Atsiliepimas